Charming smiles, playful eyes, charismatic antics, and oozing confidence- Hollywood has given us quite a lot of darlings. Whether it's the show you're binge-watching currently or a feel-good rom-com you saw last week, you will indeed find some eligible celebrity crushes. But not many make you swoon as much as the To All the Boys I've Loved Before fame Noah Centineo.
The Hollywood heartthrob mesmerized the audience with his drool-worthy smirks and praise-worthy acting that made his character even more remarkable. We couldn't have imagined a better Peter Kavinsky, so Noah's instant spotlight for the role is entirely justified. While fans are always eager to know about his life, Noah likes to keep a low profile. But there's a LOT to know about this boy, and we've covered most, if not all, of it in this article.
Who Is Noah Centineo?
Noah Centineo is an American model and actor who has starred in multiple hit series and movies. The 24-year-old is especially a sensation among the global youth because of his boyish charms and fine acting skills.
Starting from his first gig in The Golden Retriever to the hit movie series To All the Boys I've Loved Before, Noah has never disappointed the fans. The actor is known for his charismatic personality in real life, which also shows in the roles he plays.
Apart from movies, Noah has also appeared in some successful music videos like 'Havanna' and 'Save Me Tonight.' The actor has collected several awards to his name in his short but remarkable Hollywood journey. He has also gained a substantial social media following over the years owing to his popularity.
What Role Made Him Famous?
Although Noah got quite some recognition from his role in the series The Fosters, his breakthrough in terms of popularity was the Netflix original rom-com To All The Boys I've Loved Before. In the movie, Noah played the character of the ever-so-charming Peter Kavinsky.
As the title suggests, Peter is one of the boys that Lara Jean, the protagonist, had loved before. Noah does justice to the stereotypical 'popular guy' image of Peter K. throughout the movie's two parts.
His personality accentuates the sometimes confident, sometimes conscious disposition of Kavinsky. The role made him particularly popular among young adults, with millions of hormonal teenagers fangirling the star.
Other Characters Noah Has Played
While Peter Kavinsky did steal our hearts in, To All The Boys I've Loved Before, there is a host of other movies that Centineo has nailed equally well. Swiped is yet another blast of boyish charm and mischievous energy right into our faces. Lance (Centineo), the ultimate playboy, convinces his highly geeky roommate to build a game-changing app to enable hook-ups across campus. Noah's character in the movie starts with arrogance and ends in realization. His acting is crisp, genuine, and as usual, a feast for the eyes.
The Perfect Date: Centineo plays Brooks, a high-school senior who ventures to become a "stand-in" boyfriend for girls. While his original objective was to fund his dreams of attending Yale, the story gets tricky when he actually develops feelings. The effortless confidence with which he transits from one perfect boyfriend personality to the other and the sincerity with which he comes to terms with his true self, in the end, is what makes the movie worth it.
Sierra Burgess Is a Loser: The movie is centered on the typical adolescent theme of discovering one's identity. But we are centered on Jamey, played by Noah Centineo! Jamey, a handsome football player, develops a romantic connection with Sierra (an intelligent but oh-not-so-pretty girl) over the phone, mistaking her for Veronica (the queen bee at Sierra's college). This character brings out Centineo's softer sides in acting. Jamey is thoughtful, sensitive, and a lot quieter than Kavinsky but adorable all the same and keeps us waiting for more.
His Personal Life
Early Life and Education: Noah Centineo was born on May 9, 1996, in Miami, Florida, and grew up in Boynton Beach, Florida. He attended the BAK Middle School of the Arts and Boca Raton Community High School in Florida, and the Agoura High School in Los Angeles. He described himself as someone at school who 'flew under the radar with my homies.' He enjoyed soccer during his college years. Noah practices yoga, reading, and writing as ways to calm his mind. He also enjoys hiking and playing the guitar. After a brief battle with drug addiction in his teenage years, the actor has been sober since 21.
Family: Noah's father, Gregory Vincent Centineo, was a film-maker, and his mother, Kellee Janel, was a yoga instructor. Noah also has an older sister named Taylor, whom he loves dearly. He is of Italian and German descent and has once described himself as a little bit of native American with a Puerto Rican touch.
Relationships: Noah manages to keep his love-life away from the buzz. However, he dated his How To Build a Better Boy co-star, Kelly Burglund, in 2014 and then actress Angeline Appel from 2016 to 2018. Although no sources confirmed it, Centineo was briefly linked to actress Lily Collins in 2019.
Noah's Community Involvement
Noah is not just a charming actor but also an applaud-worthy philanthropist. He co-founded a non-profit Merchandise brand called Favored Nations with his friend Josh Heller. The company manufactures merchandise in collaboration with various influencers and celebrities and helps raise donations for important causes.
Noah works as a CEO in the company and has been on the frontline with all socially-inclined projects of the organization. Some causes that the organization has worked for include the Color of Change, BLM, The Bail Project, and Policing Equity.
In 2020, Favored Nations collaborated on a voter registration campaign for the Presidential Elections. Noah, along with his friend Josh, started a voting-themed art house to organize virtual tours to increase voter participation.
His Professional Life
Career: Centineo's father's film-making background inspired him. He began auditioning from eight years of age and bagged his first movie at thirteen – 'The Gold Retrievers' (2009), where he played Josh Peters. There has been no looking back since.
Initial Roles: He played David in Turkles (2011), Dallas in the TV series 'Austin & Ally.' (2011) and took up supporting roles in TV series from 2012 to 2015. In 2015, he starred as Jesus Adams Fosters in the drama series Fosters, Hawk Carter in drama-thriller series Tagged (2017), Johnny Sanders in SPF-18 (2017) and also along with Camilla Cabello in the Havana music video.
Netflix Star: 2018 had 3 Netflix originals starring Centineo: To All the Boys I've Loved Before (which earned mixed reviews and propelled him to fame), followed by Sierra Burgess Is a Loser and Swiped. In 2019, he graced our eyes (and hearts) with The Perfect Date, and Charlie's Angels and 2020 saw him in the sequel of TABILB.
Some Interesting Facts About Noah
Some spicy trivia about the drool-worthy Noah Centineo is what we cannot resist. Can you? Read on! The scar on Noah Centineo's face was from a dog bite when he was six years old. The bite ripped a massive hole through his face, and Noah required extensive plastic surgery to repair his face.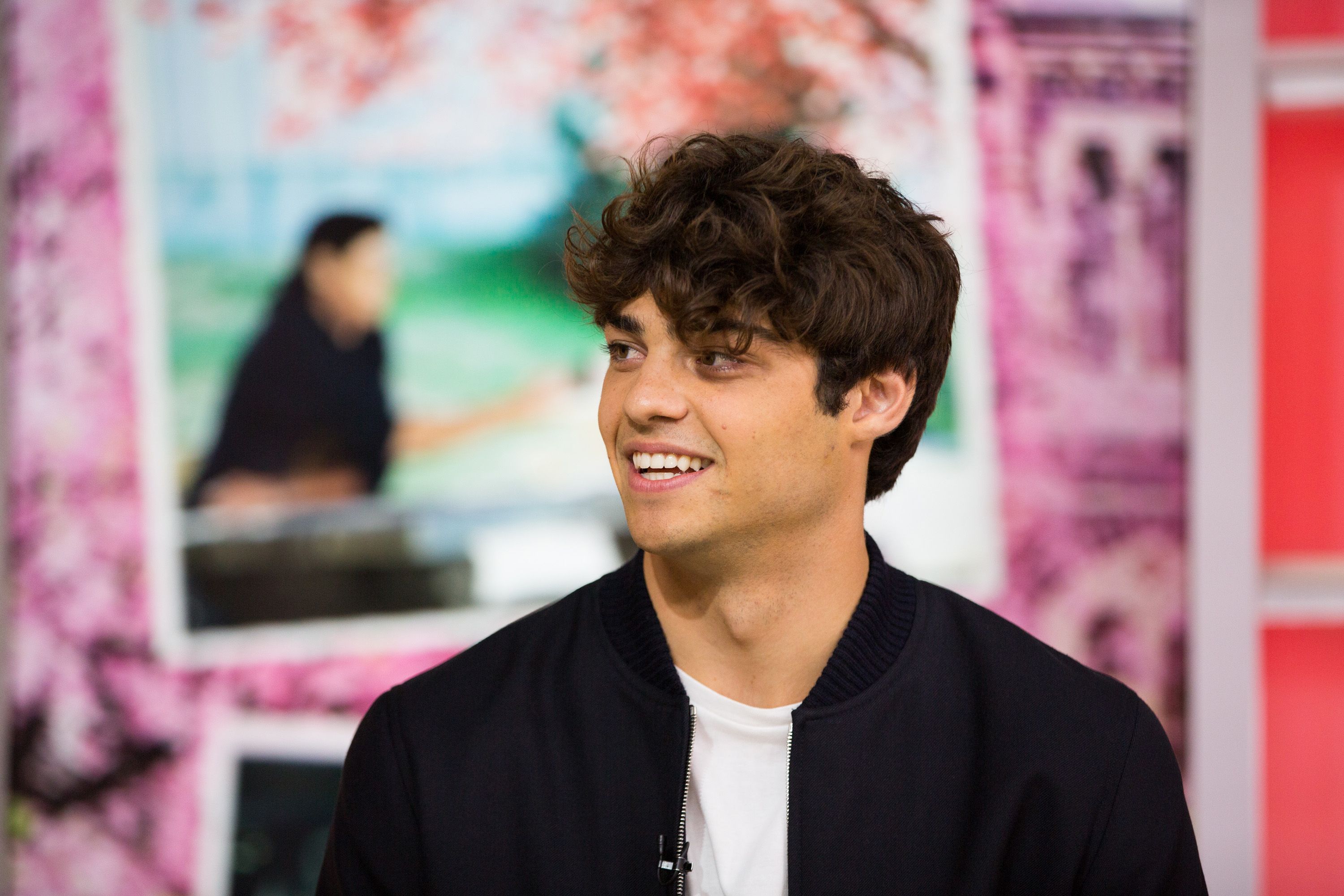 Noah was quite a party freak during his time in L.A. On the day before his 21st birthday, he decided to leave drugs and alcohol for the better. He delved into yoga, took care of his mind and body, and his life changed entirely. Eight-year-old Noah had no plans for acting as a career.
He had accompanied his sister (who wanted to be a model) to a South Florida Talent Agency audition and gave an audition himself anyway. That was, ironically, how it all started. An episode in Noah's life has an uncanny resemblance to his character in Sierra Burgess Is a Loser. He met someone on Instagram at the age of 20 and developed an intimate relationship with them. But they weren't genuine, and Snap!
Awards and Recognition
While we cannot throw The Biggest Crush of the Year award at him (because, sadly, there's no such award), Noah has his collection of well-deserved awards.
It includes the Teen Choice Awards for Choice Comedy Movie Actor (The Perfect Date), IMDb Top 10 Breakout Stars Award, People's Choice Award for Favourite Comedy Movie Star (The Perfect Date), and two MTV & TV Awards and Kids' Choice Award for Favorite Movie Actor for TABILB.
Conclusion
Couldn't get enough of Noah in all his movies? Well, the actor has a lot of treats ready for his fans this year. In 2021, you'll see him in the final part of To All the Boys, Black Adam, and Master of the Universe. Noah is already prepping for his upcoming roles, and his career seems to be going at a good pace. Till then, we hope this article fed most of your curiosity!