Many of us live a very mundane life every day. We wake up in the morning, have breakfast, get a cup of coffee, and head out to work. We go home to enjoy a sumptuous dinner and enjoy the rest of the evening before going to bed. While many of us have such routinary lives, there is that one moment that always makes our day.
This is the story of how a Waffle House waitress was caught on camera but not for what you might think.
Just a Normal Day at the Local Restaurant
The story begins in a very ordinary town in Texas where a woman named Laura Wolf wakes up and starts her day as usual. She went to the local Waffle House to enjoy breakfast and have a moment with all the locals.
On that particular day, the place was stacked, and people were coming and going as they went about their day. Laura came by for a cup of coffee, and the staff greeted her and ensured she was comfortable.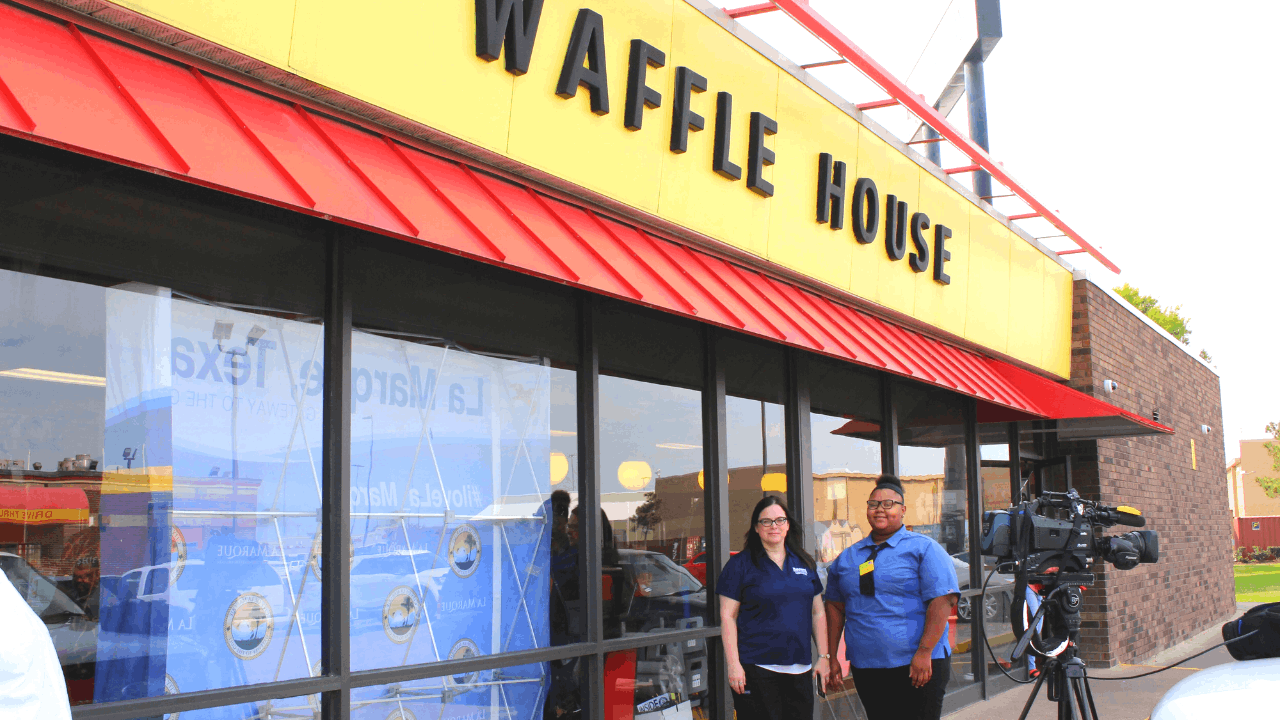 This day in early March of 2018 was a very usual day for Laura until something happened that made her take her phone out and film a very specific waitress that worked at the local Waffle House.
Meeting One of the Most Hardworking Employees
It was a very busy day within the restaurant as people were being served their usual breakfast. Laura was a regular at the restaurant so she knew everyone who came by every morning even the employees of the said restaurant.
On this busy morning, Laura was solely focused on one of the many waitresses in the restaurant named Evoni Williams. She was only 18 years old at the time and was working at the restaurant to save money for college.
Evoni was one of the most hardworking employees of the restaurant and has a great life ahead of her even if life has not been so kind to her. She worked long hours at the restaurant and made sure her customers were always served. However, even though she worked long hours, things were still very challenging for her financially.
A Busy Shift at Waffle House
On this particular day when Laura was enjoying her breakfast, it was a very busy day, and they were understaffed. Evoni and the rest of the employees had to double their efforts in serving the many customers.
She had to cater to different tables, taking their orders while following up on the others. Evoni was very efficient and effective with her work because of how dedicated she is to her job.
Many servers in the US don't get paid much for the amount of work that they do, and Evoni is just one of the thousands or even millions that aren't getting the money they deserve. But, even with how busy her work got, there was one customer that got her attention.
A Little Trouble Was Brewing
Evoni noticed that there was a little trouble brewing while she was serving other customers within the little restaurant where she was working. An old man was sitting silently at the counter, but there was something that didn't feel right about the entire situation.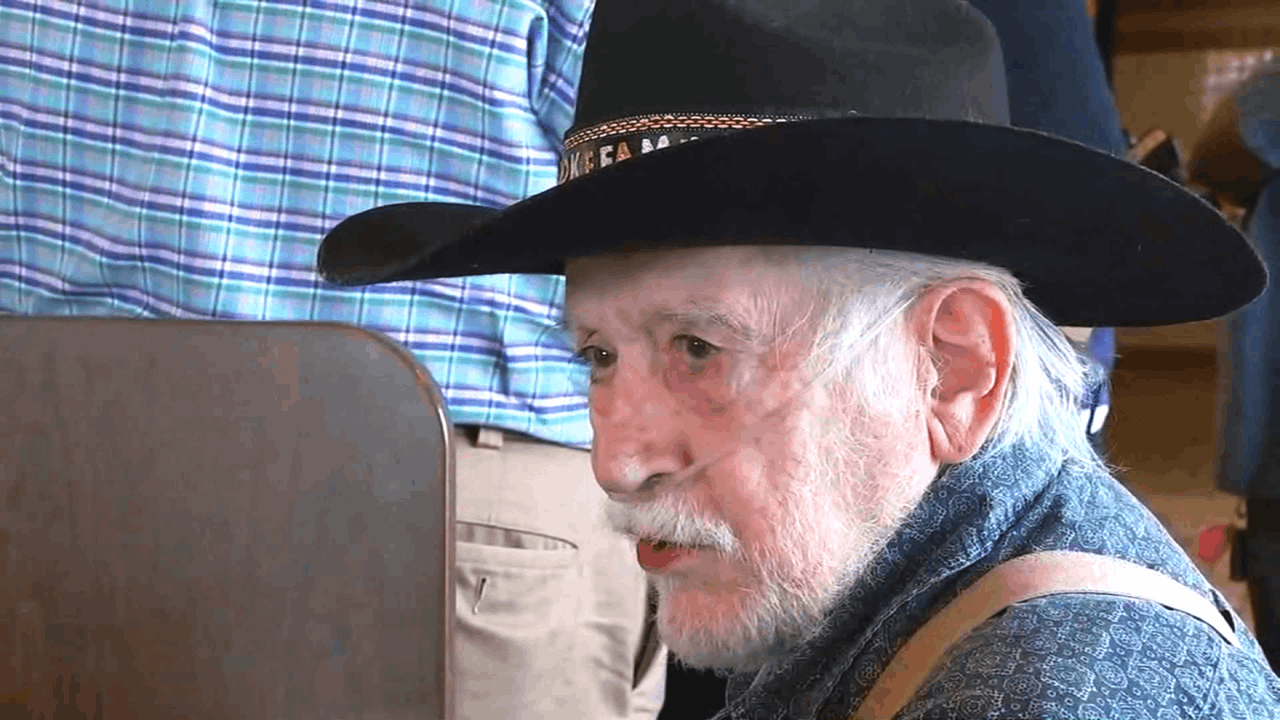 Evoni immediately approached the old man at the counter and noticed something heartbreaking about him. When she arrived at the other side of the counter, she noticed that the old man was already frail and a bit weak.
He had an oxygen tank tucked between his legs and was trying hard to keep it hidden from the rest of the people. His meal arrived on time, but he had difficulties cutting up the ham on his plate.
Everyone Was Too Busy to Notice
The man named Adrien was having trouble with his meal. With all his strength, he tried his best to feed himself and not bother anyone.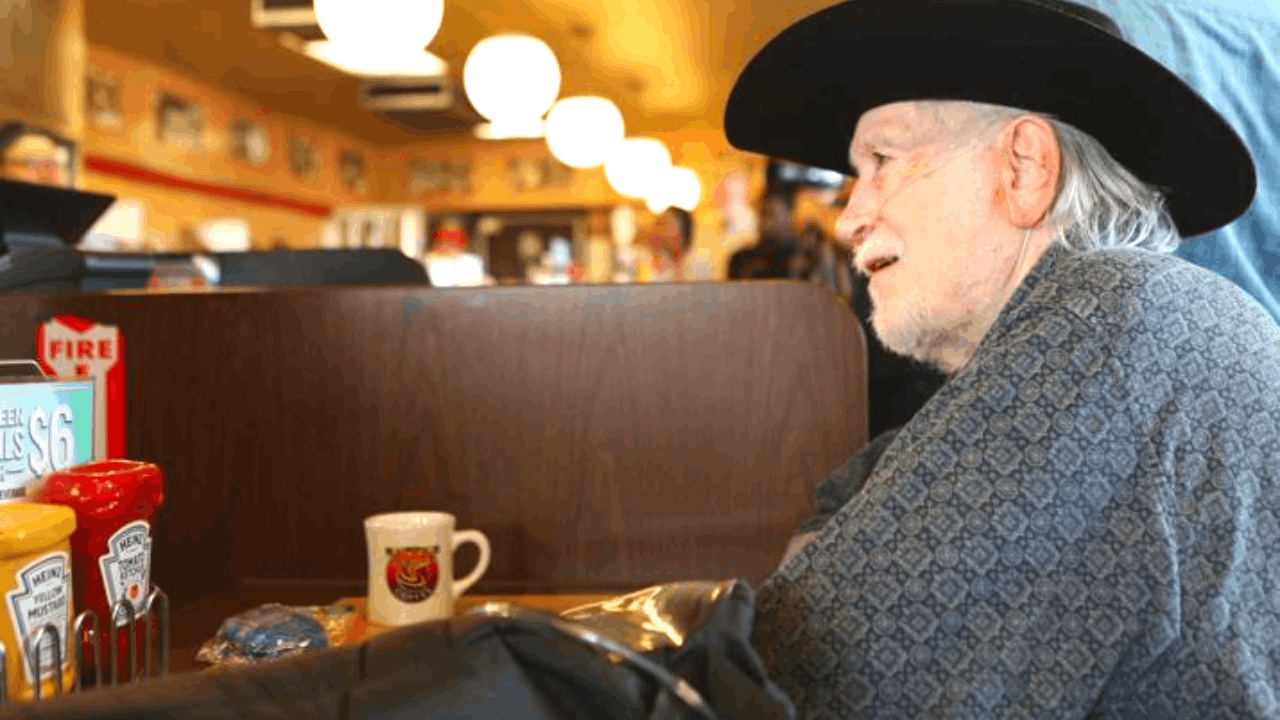 However, he could not cut up the ham as he was too frail and his hands were shaking. This was an old man who regularly went to the local Waffle House every week to enjoy his breakfast.
Everyone knew the old man, Evoni included On that same morning, everyone was busy with their meal, and no one took notice of Adrien as he tried his best to feed himself in that lonely corner.
This Is How She Reacted to the Situation
It wasn't until Evoni arrived behind the counter that things took a surprisingly positive turn for the old man.
Evoni asked if he needed help with his meal. Next, Evoni reached out and eagerly cut up his ham into tiny little pieces so he could enjoy it. It didn't take a second for her to ask Adrien about his meal, and within that moment, she was ready to help him.
Evoni continued to take care of the old man until he was fully satisfied with his meal. She made sure that the old man was happy and full before she let him go.
And While That Was Happening
On that busy morning, when everyone was eating and going about their day, one customer also took notice of the entire situation – our dear friend Laura Wolf who was having her coffee at the restaurant.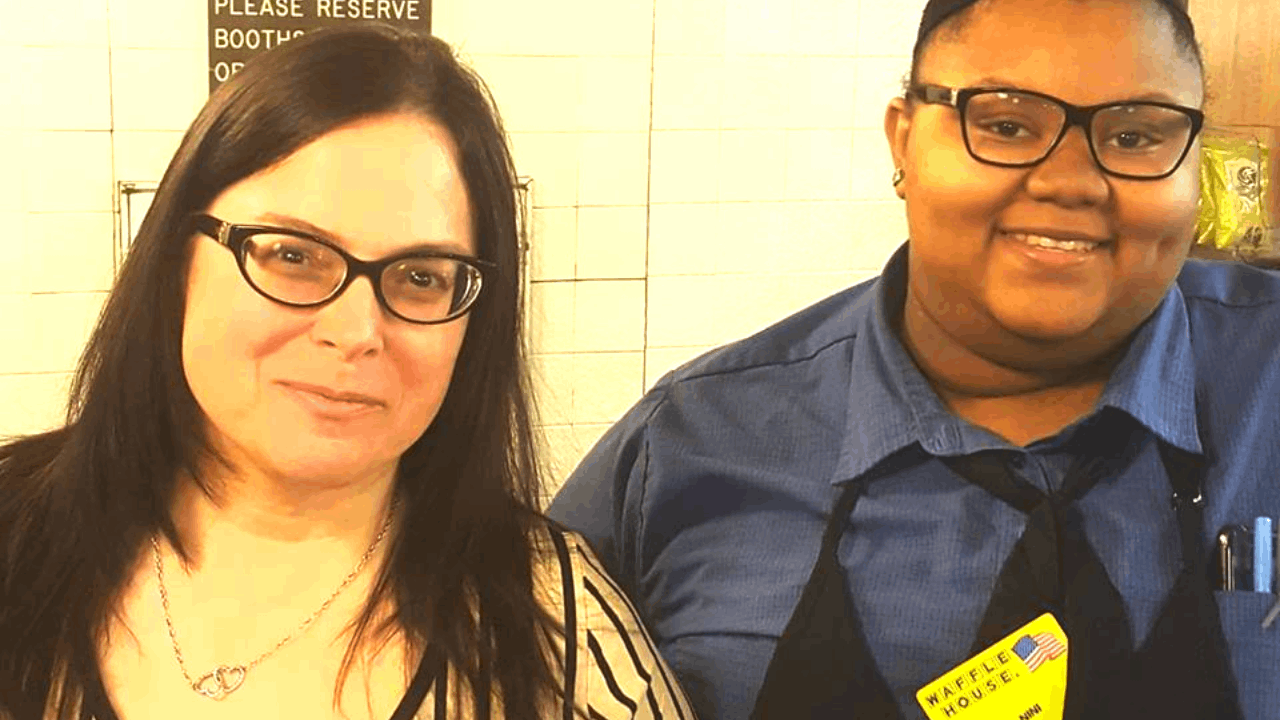 She noticed Evoni's act of kindness and immediately took her phone out to capture this tender moment. She then posted it on her social media to appreciate the small act that Evoni did for the old man.
It wasn't long before the post became viral. It only took an afternoon to reach Evoni. The entire post blew up and she became an online sensation all because she took her precious moments to help another soul.
What Happens Next Will Blow Your Mind
With the post going viral, many people were talking about this little act of kindness that Evoni did for Adrien. They shared the post for the next few days until it caught wind with many people outside of their little city.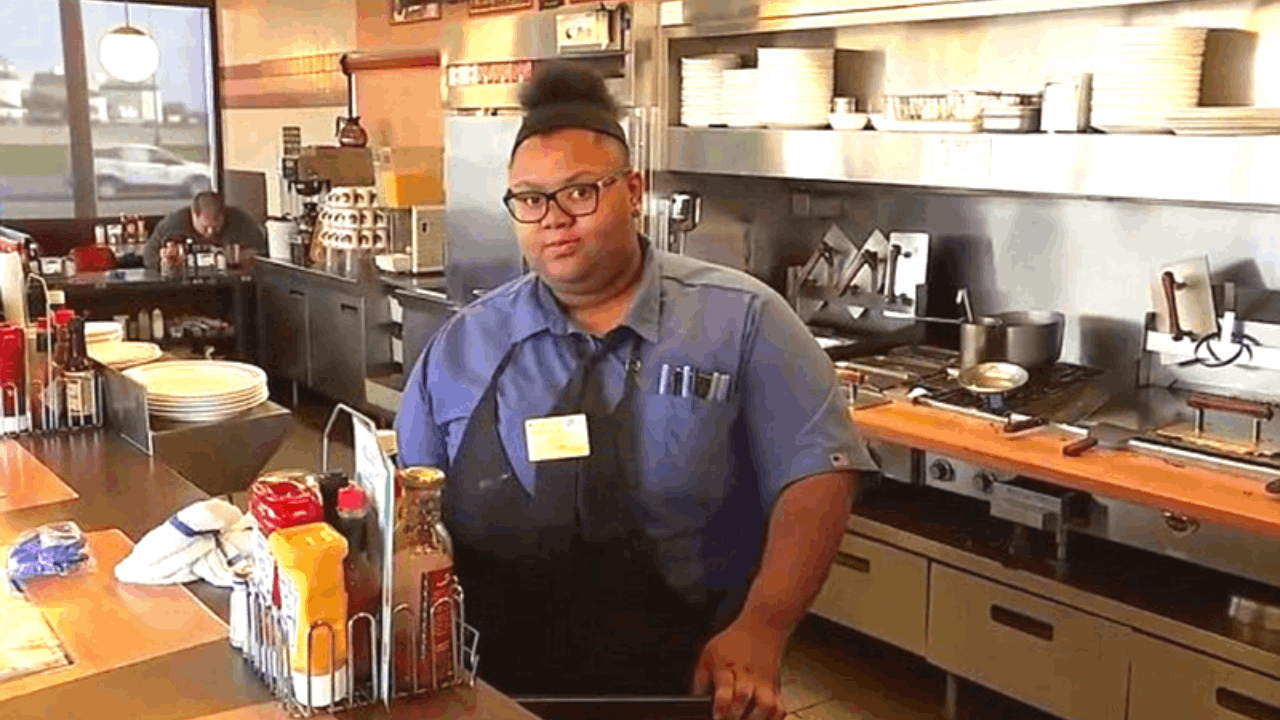 Soon, news outlets were showing the photo of Evoni helping out Adrien on television and over on the internet. The post went even more viral, and Laura could not believe what happened.
What she thought was just an ordinary morning at the Waffle House became an extraordinary day for a hardworking person like Evoni.
And What Did the Mayor Do?
Things escalated very quickly in the following days, and it also caught the attention of the mayor of La Marque. At this point, everyone knew and was talking about the simple gesture of kindness from Evoni, but she always thought this was just her helping out someone who needed it the most.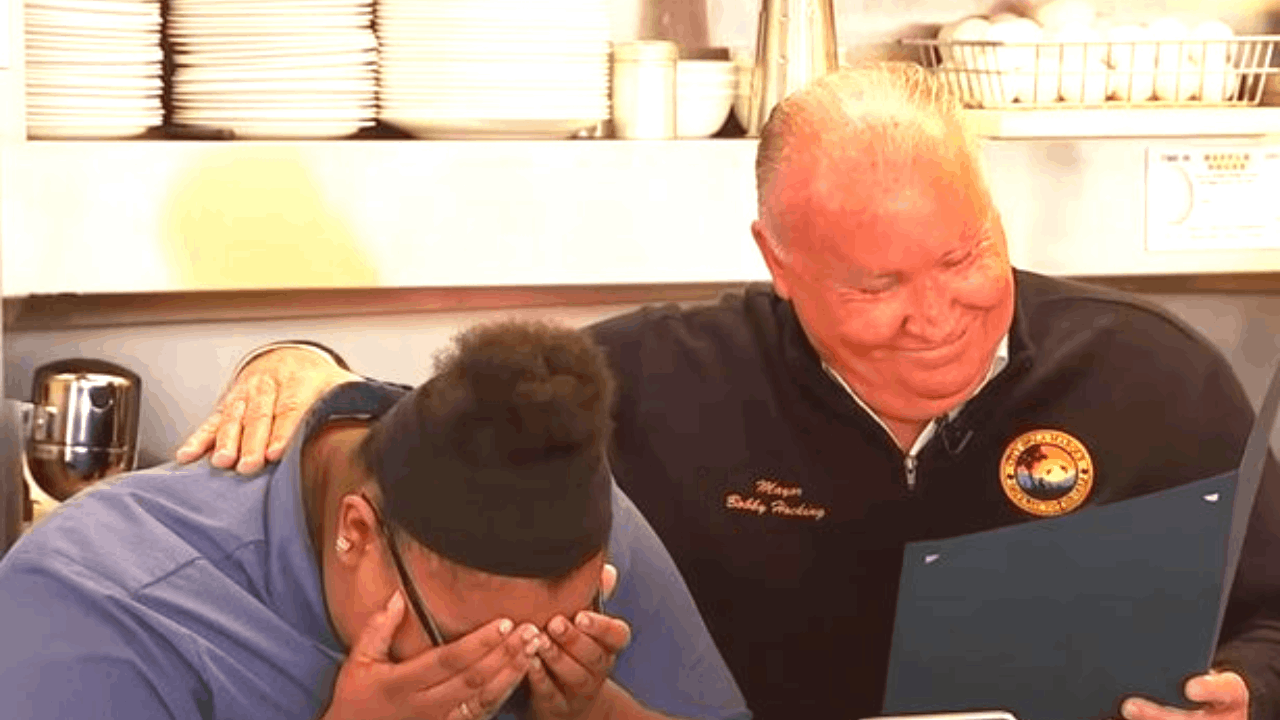 The mayor gathered everyone in that restaurant a few days later to bring a little surprise to Evoni. It was on that day that he announced to everyone that March 8, 2018, will now be Evoni Nene Williams Day in honor of her act of kindness.
It was a tear-jerking moment for Evoni as she accepted the proclamation with her hands on her face in total disbelief at what just happened. It was a surprising moment for the young employee who just wanted to help a person in need.
Then There's Even More Surprises Waiting for Her
Evoni was taken by surprise by the announcement. She was overwhelmed with emotion throughout the entire time. As the town congratulated Evoni on the announcement, more surprises were waiting for her.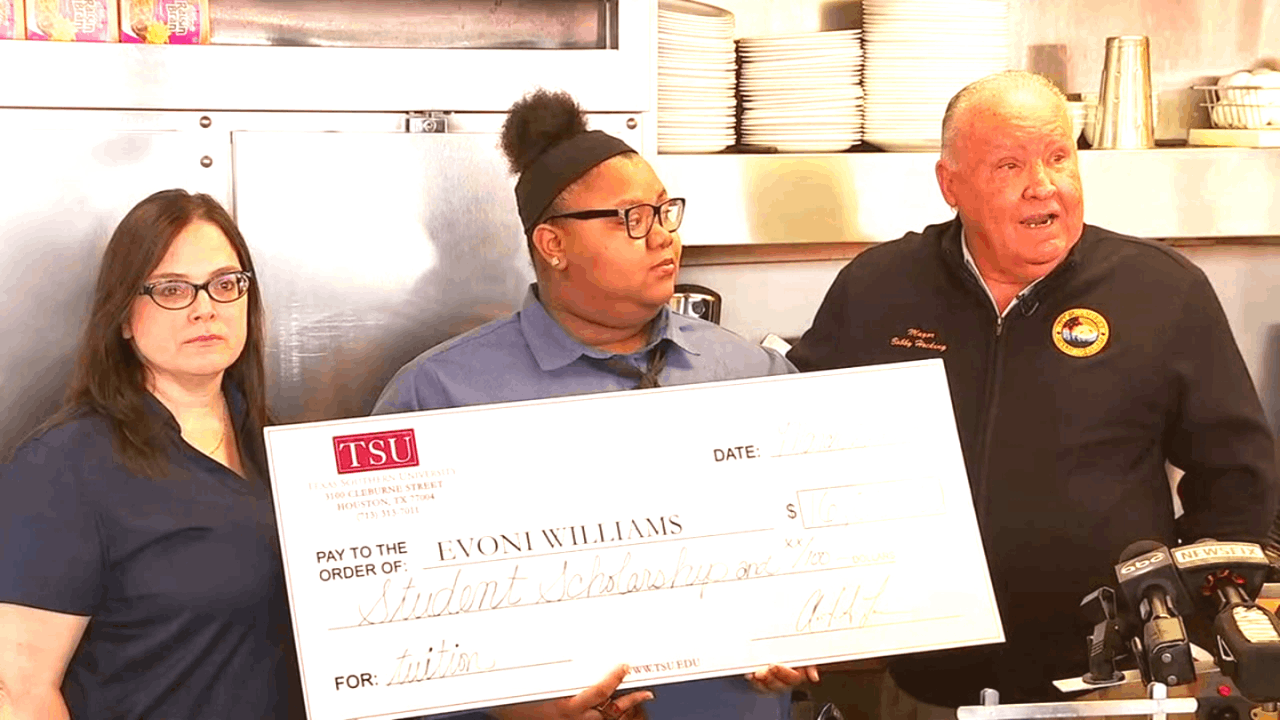 The mayor called upon two individuals who represented Texas Southern University in front of the crowd of people and news reporters. Then, the representative delivered the news that the university would be giving her a $16,000 scholarship for her act of kindness.
This blew her mind and made her even more emotional as tears started falling off her cheeks. It was such a surprise for her that she did not expect that a simple act would bring her this much joy.
All It Took Was a Little Act That Changed Her Life Forever
For Laura, the day that she decided to take her phone out to capture Evoni's act of kindness was the day she gave Evoni the platform for everyone to see.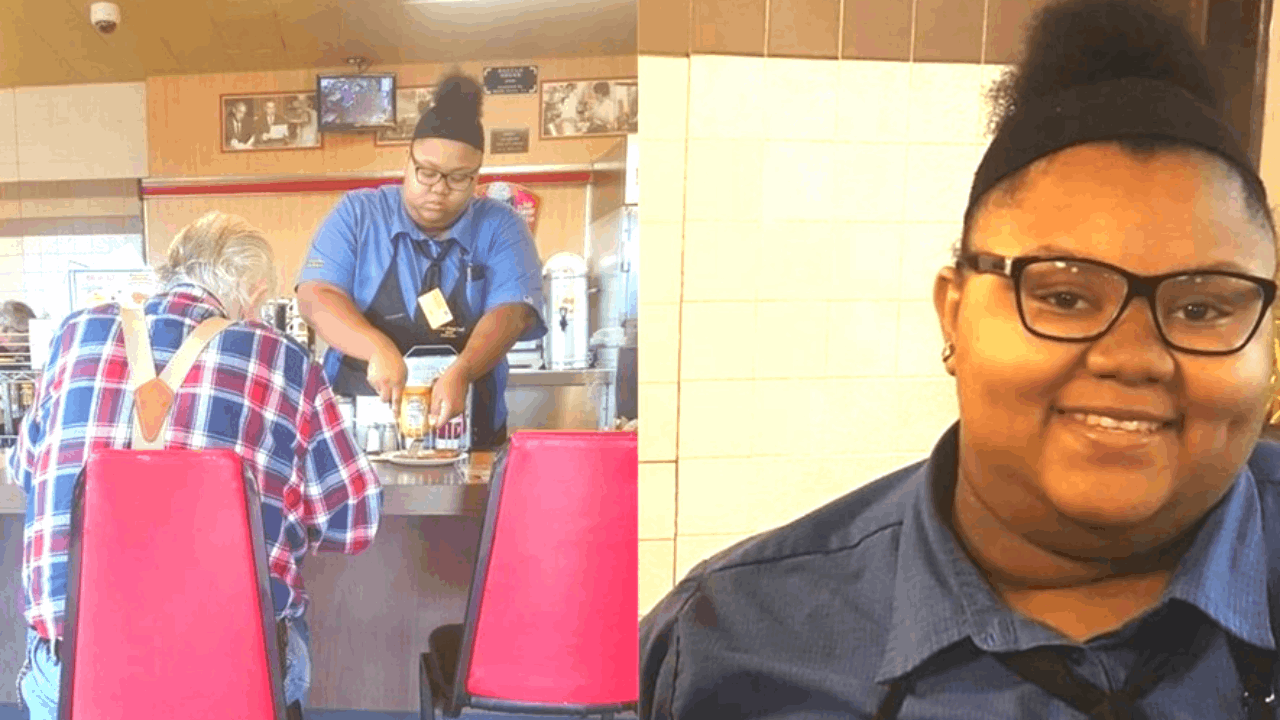 Evoni is a kindhearted soul with a big heart. She even said in an interview that she did what anyone would have done when someone needs help. She did not let the media or internet fame get to her head.
Now, she is on her way to reaching for her dreams. All it took was a little act of kindness that forever changed her life for the better.
Conclusion
While many of us struggle with our day-to-day affairs, we often forget that other people have bigger struggles. Some people like Adrien even struggle to cut food for themselves.
Evoni showed us how one simple gesture can make a difference in this world. What Evoni teaches us today is to always be kind to other people.