YouTube has been an avenue of discovery for many celebrities today. At the time YouTube rose to its own fame, people began to see it as an opportunity to show off their talents in the best ways possible – talented people used likes and positive comments to keep themselves motivated!
Some of today's well-known artists found their way into the industry through YouTube! With talent agencies on the lookout online, artists like Justin Bieber, Carly Rae Jepsen, Cody Simpson, and many others are examples of how one viral video can lead to stardom.
Out of all these success stories, a very heartwarming one has been of the Chloe X Halle sisters. All it took for them was their magical voices, dedication, and the luck of a viral video to become famous. In this article, we will enlighten you with the background of these two sisters and how their careers have flourished throughout the years.
Who Are Chloe x Halle
Chloe x Halle is an R&B musical act comprised of two sisters, Chloe Elizabeth Bailey and Halle Lynn Bailey. Both began their careers at a young age, in small acting roles, eventually kickstarting their singing careers in Los Angeles in 2012. They are self-taught musicians who are inspired by artists like Billie Holliday and Missy Elliott. They have released 2 studio albums to date, and have co-written every song.
The Bailey sisters were born to parents Courtney and Doug Bailey in Atlanta, Georgia. Chloe is the big sister, born July 1st, 1998, and Halle was born almost two years later, on March 27, 2000. They were raised in Mableton, Georgia, and early-on starred in minor acting roles, like the film The Fighting Temptations in 2003, and the hit film Last Holiday, in 2006.
In 2008, at the ages of ten and eight, their Dad taught them how to write songs. With mentorship from their father, Chloe and Halle started their YouTube channel a few years later in 2011. The first cover uploaded by them was a Beyoncé song called "Best Thing I Never Had". This YouTube channel gave birth to the duo of 'Chloe x Halle' as they kept on uploading covers of pop songs, slowly bringing them viewership and recognition for their talent.
Career Beginnings for Chloe x Halle
Chloe x Halle had their talk show debut when they first appeared on The Ellen Show in April 2012. In December of 2012 the sisters participated in, and won, the fifth edition of The Next Big Thing held by Radio Disney. Not only this, but their acting career didn't stop just then! Chloe x Halle made a cameo appearance in Austin & Ally, a Disney series, with their song "Unstoppable" in September 2013.
YouTube did bring a lot of fame to the duo, and along with the progress made through Disney projects, they released a four-track project in the September of 2013 that was called "Uncovered."
This project included all of the covers that were sung by Chloe x Halle including songs like "Applause", "We Can't Stop", "Wrecking Ball", and "Roar." Their cover of Beyoncé's "Pretty Hurts" was enough to catch the eye of Queen B herself!
Beyoncé + Chloe x Halle
In 2015, Beyoncé signed Chloe x Halle to her management company, Parkwood Entertainment. When they signed with Parkwood Entertainment at the age of 16 and 18 respectively, their career grew exponentially, and the world really began to see the enormous talent the sisters have.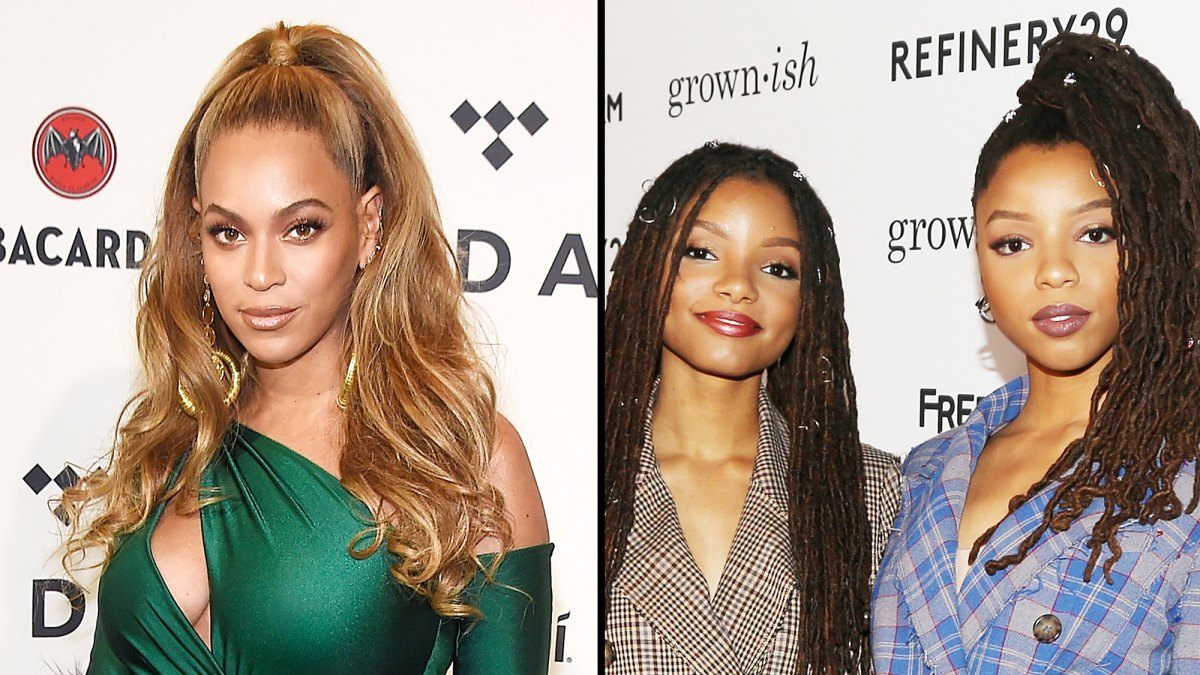 Beyoncé's mentorship of the sisters was shown early on, with Chloe and Halle appearing in Beyoncé's visual album Lemonade, and the sisters accepting the album's Viewer's Choice Award at the BET Awards on Beyoncé's behalf. Beyoncé has been publicly vocal with her praise for the young women's talent, performances, and appearances over the years as well.
After appearing in Lemonade, Chloe x Halle released their very first EP under Parkwood Management called Sugar Symphony on April 29th, 2016. They had the great honor of performing the EP's lead single 'Drop' at the White House Easter Egg Roll, with an introduction from First Lady, Michelle Obama, along with their other hits "Baby Bird" and "This Is For My Girls".
This wasn't the first time that the duo played for someone so important, having been the opening act for President Barack Obama's keynote discussion at the SXSW Festival in March of 2016. At the same time, Chloe x Halle was the opening act for Beyoncé on the European leg of her Formation World Tour.
Singing and Acting
Chloe x Halle's debut studio album was announced in February 2018, called The Kids Are Alright . The album features 16 songs, and two bonus tracks, all written by Chloe and Halle. Three of the songs, "Fake", "Galaxy" and "Babybird", featuring Halle playing guitar. That year, the sisters performed to massive crowds at Coachella Valley Music and Arts Festival, where their performance was met with a huge appreciation by critics.
It was later announced that Chloe x Halle would go back on tour, opening for the US leg of Beyoncé and Jay-Z's On the Run II tour, also featuring DJ Khaled. For The Kids Are Alright, Chloe x Halle were nominated for two awards at the 2018 Grammy Awards: Best New Artist, and Best Urban Contemporary Album. They were also Grammy presenters and performers that year, presenting the Grammy for Best Rap Album to Cardi B and performing a cover of the 1972 single "Where Is The Love" by Donny Hathaway.
Their success hasn't only been in their singing careers! Chloe and Halle were also starring as series regulars in the TV series Grown-ish, and even co-wrote the theme song entitled "Grown", which was also released on their album The Kids Are Alright . In July of 2019, it was announced that Halle had been cast as the highly-coveted role of Princess Ariel in Disney's upcoming live-action remake of The Little Mermaid, in which she will also record the film's soundtrack.
Picking Up Momentum in 2020
In 2020, Chloe x Halle released a song with Swae Lee called "Catch Up". On May 14th, Chloe x Halle released "Do It" while announcing their second album called Ungodly Hour. They also announced "Forgive Me" as their second single in the album and eventually released Ungodly Hour on June 12, 2020.
Their second studio album, Ungodly Hour, was completely recorded at the duo's home studio, beginning in December of 2018 and finishing in October 2019. The album features 13 songs, all co-written by Chloe and Halle. The album received wide acclaim for it's maturity and cohesiveness.
Ungodly Hour ended up debuting at number 16 on Billboard 200 charts and sold around 24,000 units. "Do It" was their first entry on the Billboard Hot 100, and it debuted at the 83rd number on the charts of June 27, 2020. This song was performed by them in multiple awards shows like the 31st GLAAD Media Awards and the 2020 BET Awards, where they also performed the song "Forgive Me".
The hustle did not stop as Chloe x Halle performed "Do It" at the virtual commencement Dear Class of 2020 in early June.
Accolades and Recognition
Chloe and Halle have received a number of prestigious nominations and recognition so far in their careers. Their mixtape, The Two of Us, released in the spring of 2017, landed on the list of the Best R&B albums of 2017 in Rolling Stone Magazine.
Since the release of their first studio album only three years ago, they have been nominated for four BET Awards - including a Best Group nomination each year -, five MTV Video Music Awards - for Best Group, Best New Artist, and Best R&B -, and a total of five Grammy Awards - including Best New Artist, Best R&B Song, Best Traditional R&B Performance, and Best Urban Contemporary Album.
In 2020, Chloe x Halle won the Rising Star Award from the Billboard Women in Music event, which aims to recognize women's accomplishments in the music industry.
Conclusion
In just a span of four years, the sisters have released two albums, numerous mixtapes and EPs, and even sound-tracked an important motion picture while also joining the ensemble of a very famous teen show. Having the opportunity to perform alongside major acts in hip-hop and R&B, as well as on-stage at major festivals, in front of the First Family, and on talk shows for millions to see, has blasted them into celebrity.
YouTube is a place where everyone showcases their talents, and it is the reason why Chloe x Halle were able to receive the recognition that they deserved. Was it not for the covers that they released in their early YouTube days, the sisters admit that they may have ended up in a different place altogether! Luck does charm for the ones who work hard.