No doubt that celebrities live a luxurious lifestyle, and in fact, the competition between them is known to all of us! And when it comes to engagement rings, they desire stones that should not just fit their fingers but also their lifestyles.
Here's a list of the most iconic and lavish celebrity engagement rings to date, beginning with royal jewels from the 1930s and ending with the most expensive engagement ring yet! Some are still being worn while others have been auctioned off, sometimes privately and secretly, and sometimes very publicly, with the proceeds going to charity.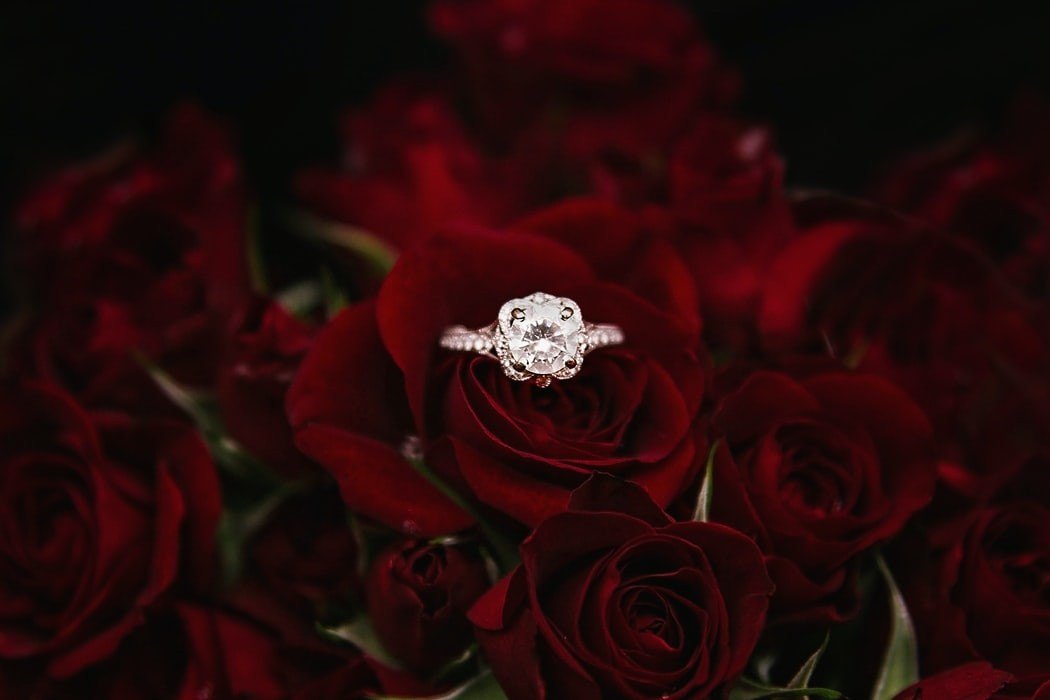 30. Halle Berry ($200,000)
Our list of the most gorgeous and standout celebrity engagement rings starts with Academy Award winner Halle Berry. Halle Berry's engagement ring from ex-husband Oliver Martinez features a four-carat emerald at its center, adorned with two smaller diamonds on each side. The ring is worth an estimated $200,000.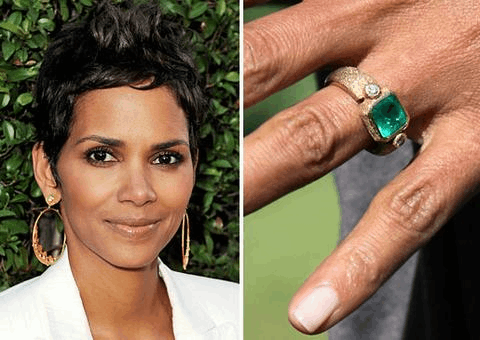 The emerald was sourced from closed-down mines in Muzo, Colombia, and is said to be perfect in color. The hand-forged gold ring came from French jeweler Robert Mazio.
The perfect, clear ring contains Phoenician codes that represent the couple's love story. After almost three years of marriage, the couple called it quits and divorced in January 2017.
29. Miley Cyrus ($250,000)
Liam Hemsworth's engagement ring for Disney actress Miley Cyrus during their engagement in 2012 cost around $250,000. The ring, designed by Neil Lane jewelers, was a 3.5-carat cushion diamond ring handcrafted in 18-carat gold carved with diamond floral motifs in an art nouveau pattern.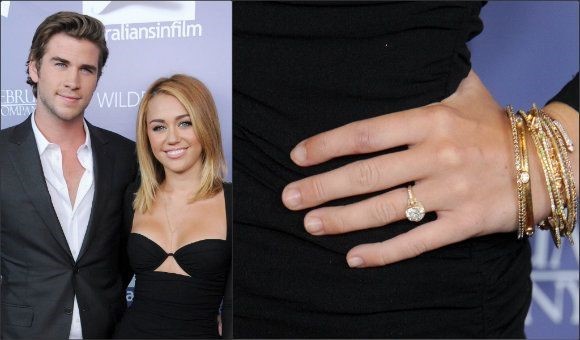 Hemsworth came to Neil Lane wanting "Something unusual.. something really beautiful and romantic." The ring's center is an antique that dates back to the last 19th century. "It was hand-cut around 1880 or 1890 and is in its unique and in its original form," Neil shared.
The couple tied the knot in December 2018 after calling off their engagement during their on-and-off relationship. Miley and Liam divorced seven months after their marriage.
28. Meghan Markle ($350,000)
Following his brother William's footsteps, Prince Harry's engagement ring to Meghan Markle also used jewels that once belonged to his mother, the late Princess Diana. Harry designed the three-stone stunner himself, which features a three-carat cushion cut center diamond from Botswana.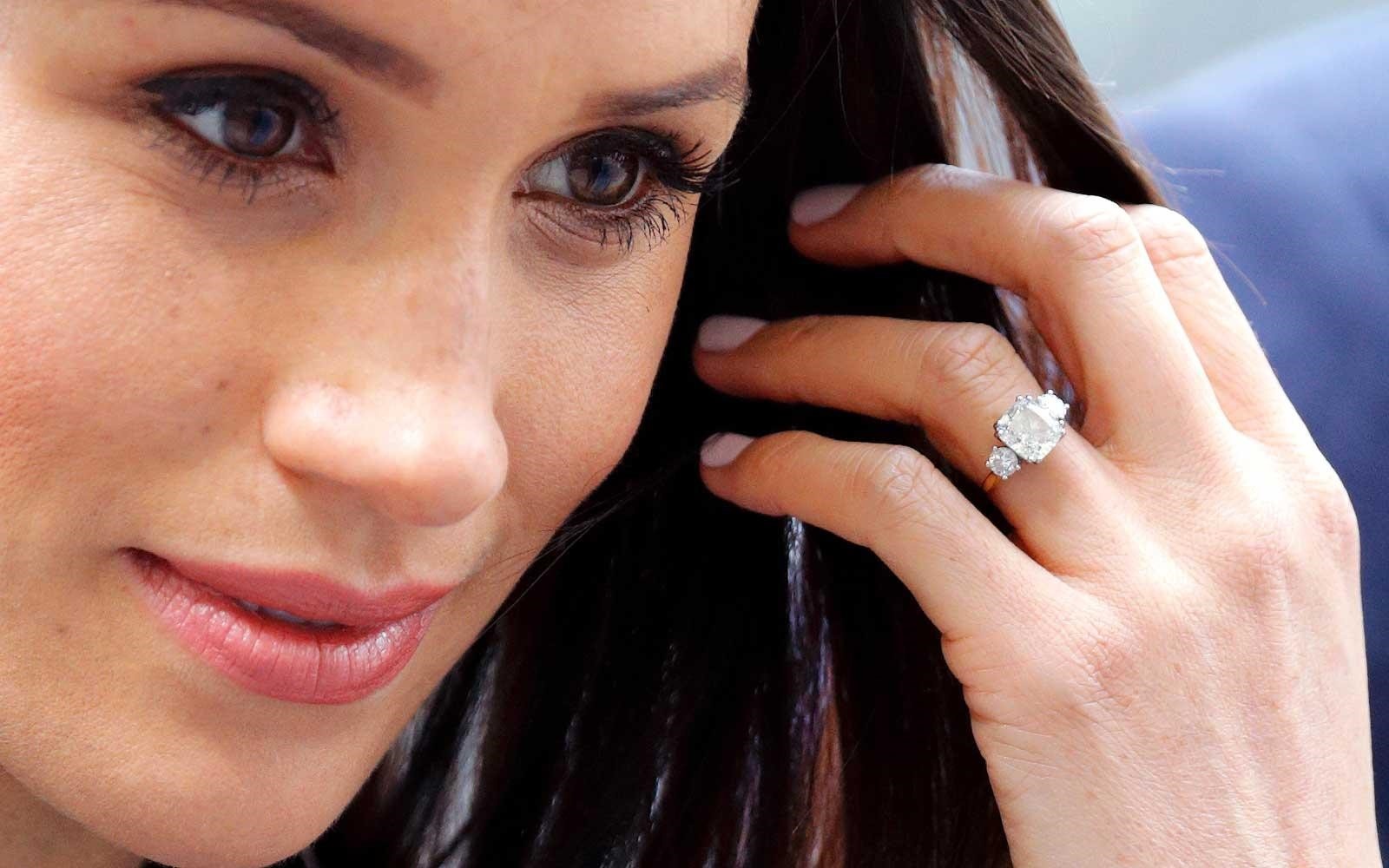 The center stone is surrounded by two round diamonds from Princess Di's personal jewelry collection as a tribute to her presence in Harry and Meghan's life. The ring comes in a gold band, Meghan's favorite, made by Cleave and Company.
The ring was then redesigned by Harry's favorite jeweler, Lorraine Schwartz, who replaced the simple band with a thin, yellow gold band set with micro-pave diamonds. It costs approximately $350,000.
27. Scarlett Johansson ($400,000)
When Colin Jost proposed to actress Scarlett Johansson, he did so with a $400,000 unique engagement ring on her finger. The ring features an 11-carat, light brown egg-shaped diamond set on a black band.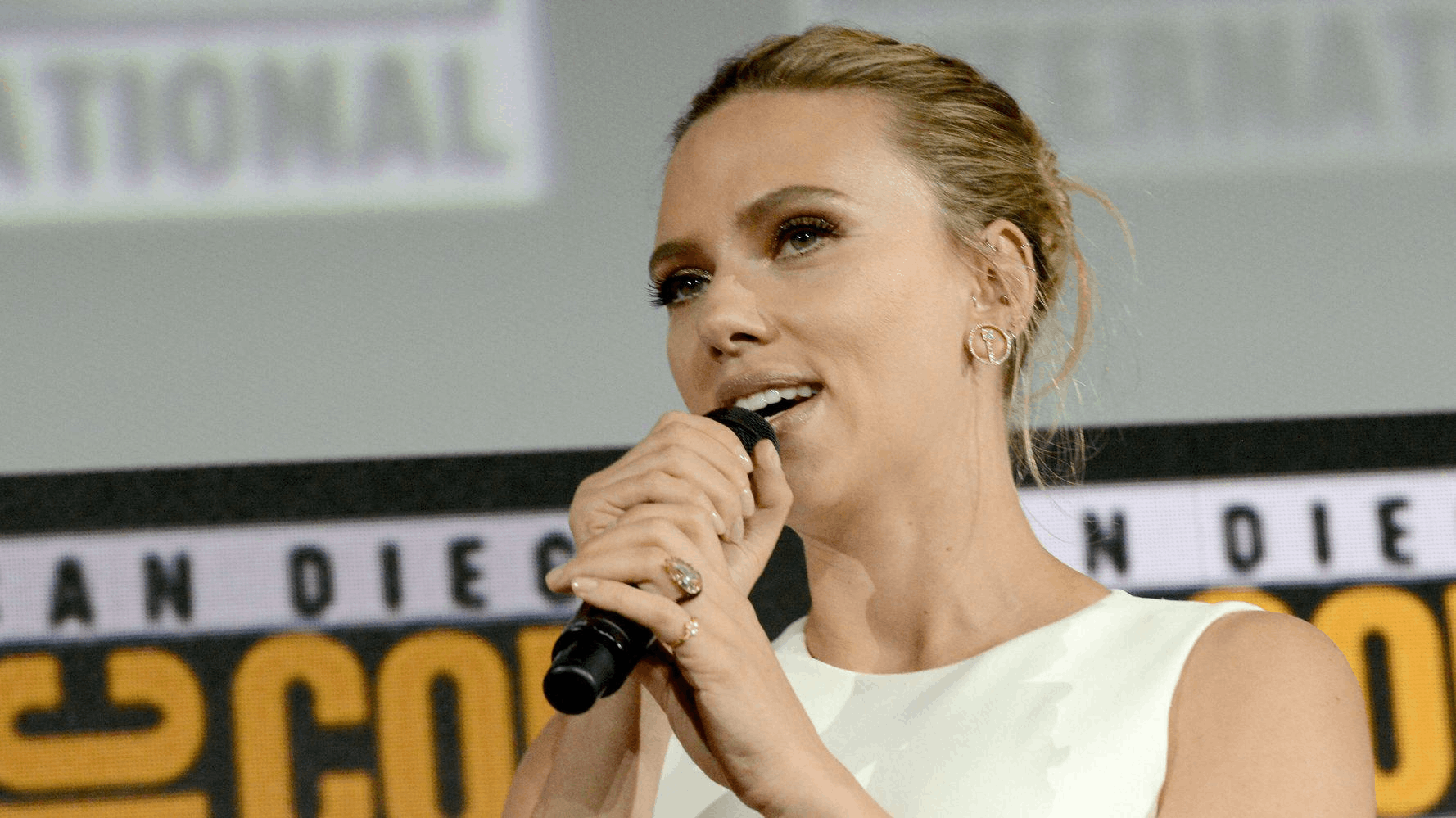 It is believed to have been designed by James de Givenchy, founder of the Taffin jewelry label. De Givenchy is sometimes referred to as "the James Bond" of the jewelry world. The Taffin ring for Scarlett's third engagement is a singularly designed and rare cut stone in a ceramic setting.
The ring, although inspired by the Art Deco style, was created using innovative modern technology. The stone appears to be a Type IIa diamond, the rarest of diamonds because they are chemically the purest and have no measurable impurities.
26. Angelina Jolie ($500,000)
Angelina Jolie was given a 16-carat diamond ring worth $500,000 by her then-husband, actor Brad Pitt. The emerald-cut 16-carat diamond was from designer Robert Procop. The diamonds were custom cut and shaped to complement Angelina's hand and encircle her finger.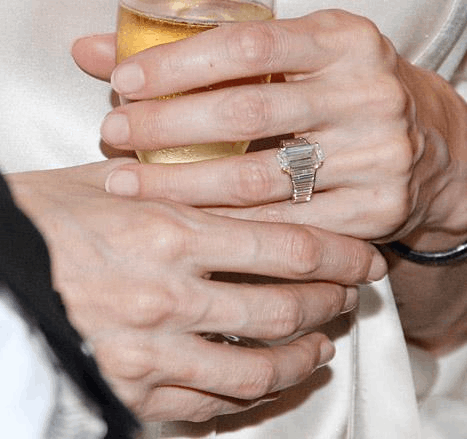 Brad was said to have spent a year designing the ring to ensure that his engagement ring for Angelina was perfect. Edgy and sophisticated, the ring captures Angelina's wonderful sense of style. Procop said that Brad had a specific vision of the ring and that each diamond is of the highest gem quality.
Angelina and Brad were together since 2005, getting engaged in 2012. The couple shocked everyone with a wedding in France in 2014, but sadly, they announced their divorce in 2016.
25. Cardi B ($500,000)
Popular rapper Cardi B's ring was custom-made by Pristine Jewelers NYC, located in Diamond District in Manhattan. It is an 8-carat pear-cut diamond ring that features a double halo of white and light pink diamonds.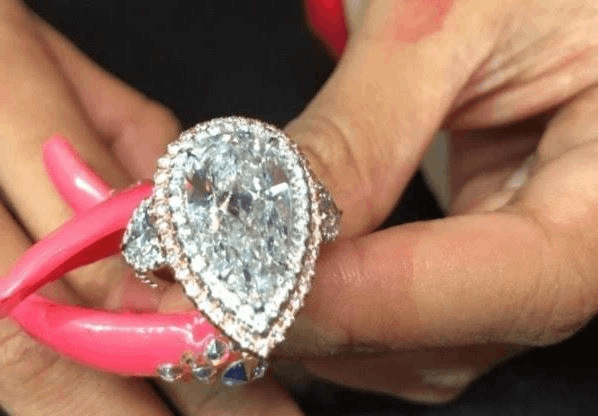 Pink diamonds are considered the rarest in the world; the ring is approximately worth half a million dollars. Her fiance, Offset, proposed with the ring in front of hundreds of fans at Power 99's Powerhouse Concert in October 2017.
However, the couple already married in September of 2017, but Cardi appreciated Offset's gesture to propose so that she would have the chance to experience a proposal. Offset specifically requested the ring to be shaped like a raindrop, which is perhaps an allusion to the line "raindrop, drop top" from his group Migo's hit song "Bad and Boujee."
24. Kate Middleton ($525,000)
Once owned by the iconic Princess Diana, the sapphire ring Prince William gave his then-fiance Catherine 'Kate' Middleton had a poignant meaning: it was to ensure that his mother didn't miss out on his own wedding.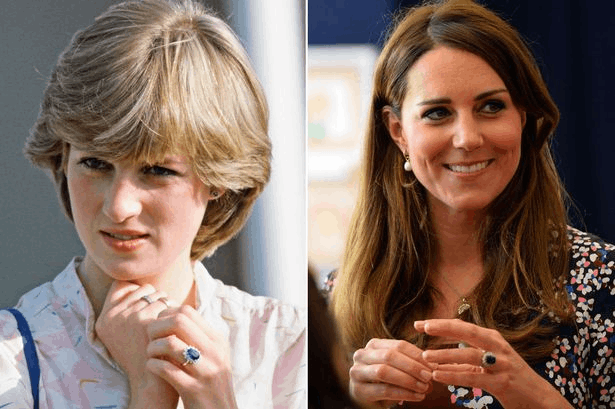 The ring, which consists of a 12-carat oval blue sapphire, cut into facets, and surrounded by 14 solitaire diamonds with an 18K white gold setting, was resized to fit Kate's finger. This was done by G. Collins, the Crown Jeweller, who placed small platinum beads inside the ring's band.
The ring was originally created by former Crown Jeweller, Garrard and Co. It was handpicked by Diana, and her choice of choosing a pret-a-porter ring caused quite the scandal. Now, it is the most coveted sapphire ring style in the world, with jewelers all over trying to copy the ring's iconic style.
23. Sofia Vergara ($750,000)
Modern Family star and America's Got Talent judge Sofia Vergara's engagement ring is a vintage-style platinum halo ring with a large cushion-cut center diamond. The center stone is a seven-carat cushion cut diamond, accented with a diamond halo encircling the center stone and diamonds.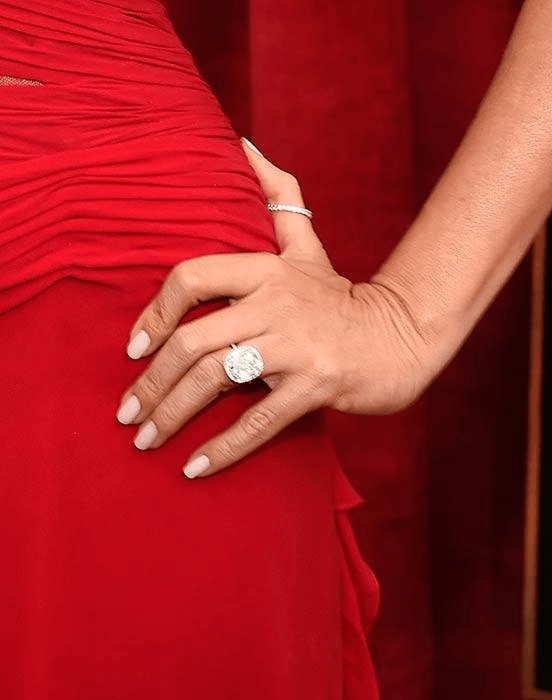 This was given to her by husband Joe Manganiello as a surprise on Christmas Day 2014. Called "more than an iceberg than a diamond" by USA Today and "nearly-blinding" by The Knot, the ring is estimated to be worth $750,000, iced with tiny white diamonds, fashioned from one of the white metals.
The 7-Carat Asscher Cut Diamond engagement ring is proudly worn by Sofia to show off the gorgeous betrothal gift. Sofia has also recently entered the jewelry world herself, partnering with Kay Jewelers to launch her own jewelry line, So Sofia.
22. Hilary Duff ($1 Million)
Lizzie McGuire star Hilary Duff's engagement ring features a gorgeous radiant-cut center diamond flanked by two side stones, with more diamonds that embellish the ring's shanks. The platinum ring was from Canadian NHL player Mike Comrie, whom she married in 2010.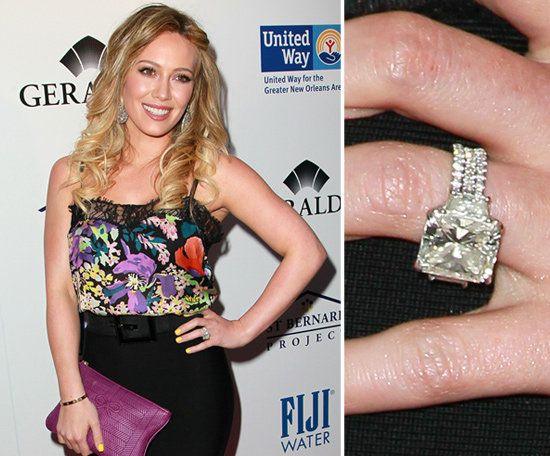 The ring is an enormous 14-carat diamond, custom-made diamond ring worth $1 million. Comrie popped the question after being together for over two years. The couple got married six months after they announced their engagement.
The couple announced their divorce in early 2015. They are civil towards each other and co-parent their son, Luca.
21. Gabrielle Union ($1 Million)
Gabrielle Union's engagement ring from NBA superstar Dwayne Wayde is a stunning 8.5-carat cushion cut diamond. Dwayne meticulously searched for the right stone until he found his jeweler, Jason of Beverly Hills.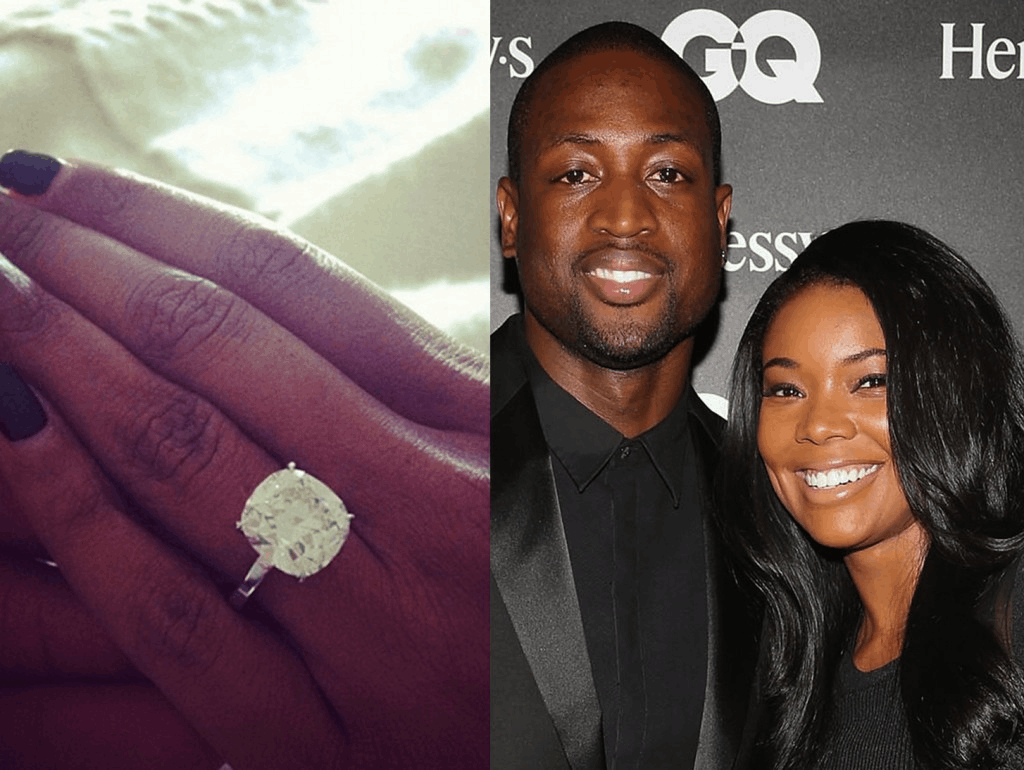 This custom diamond ring is approximately worth a million dollars, features a gorgeous cushion cut center stone. It's an enormous rarity, even in the Hollywood scene.
The ring is truly a spectacular and majestic jewelry creation, which has caught the public's eye every time Gabrielle wears it on her finger. The couple now raise four children and have been married for six good and happy years.
20. Catherine Zeta-Jones ($1 Million)
Catherine Zeta-Jones' breathtaking engagement ring is a vintage Fred Leighton-style ring that features an incredible 10-carat diamond site-set marquise center stone. This is surrounded by 28 smaller glittering diamonds.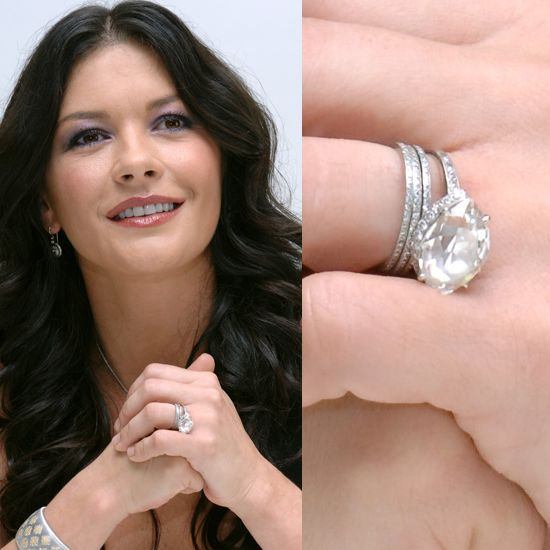 The ring is as glamorous and gorgeous as Catherine, and any woman would surely love to have that ring wrapped around their finger. It's a stunning piece of jewelry that will stand out even from a distance.
Michael Douglas gave this ring to Catherine when he proposed in 2009. They married in 2000 and have been married for almost two decades. They have two kids: a son named Dylan Michael, and a daughter named Carys Zeta.
19. Jennifer Aniston ($1 Million)
Jennifer Aniston received a 10-carat engagement ring from her then-husband Justin Theroux. At first glance, it looks like an oval-cut diamond set in a halo, with pave diamonds on the shank. But after taking a closer look, it seems to be something more: an elegant and fabulous ring.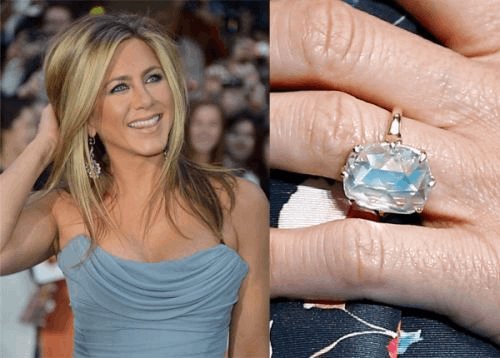 It's a trend-setting oval-shaped cushion-cut solitaire set in yellow gold, with a 10-carat diamond at its center. Jennifer had been seen wearing it publicly, proudly showing off Justin's token of love for her.
This isn't the first ring Jennifer received– she had an engagement ring from her marriage with Brad Pitt, which cost a good and hefty sum of $500,000. It was designed by Silvia Damiani and featured a round center stone surrounded by a spiral of smaller diamonds.
18. Jennifer Lopez ($1.2 Million)
Ben Affleck gave then-fiance Jennifer Lopez a $1.2 million engagement ring back in 2002, although the couple never made it down the aisle. The ring was a massive 6.10-carat radiant cut from Harry Winston.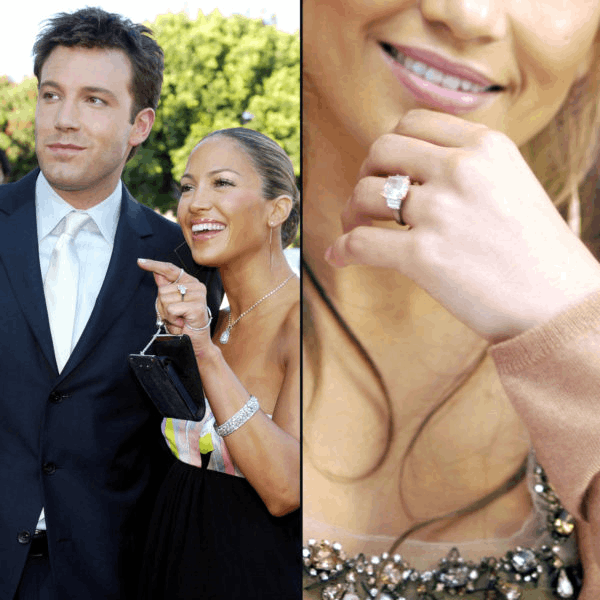 Although this is one of Jennifer's five engagement rings, it is no secret that Ben Affleck gave her one of the most expensive rings she slipped onto her fingers. Jennifer revealed, nearly two decades later, that she loved the ring Ben gave her.
The ring was a one-of-a-kind piece of art and was not only a piece of jewelry but a symbol of affection and token for a two-year romance that was loved by many friends and fans all over the world.
17. Ciara ($1.5 Million)
Ciara received a stunning 16-carat engagement ring from her now-husband Russell Wilson. The ring features a round, brilliant-cut diamond weighing 16 carats. It is a flawless and massive diamond flanked by four side stones: a trapezoid-shaped diamond on both sides of the centerpiece and a pear-shaped diamond on each of the outer edges.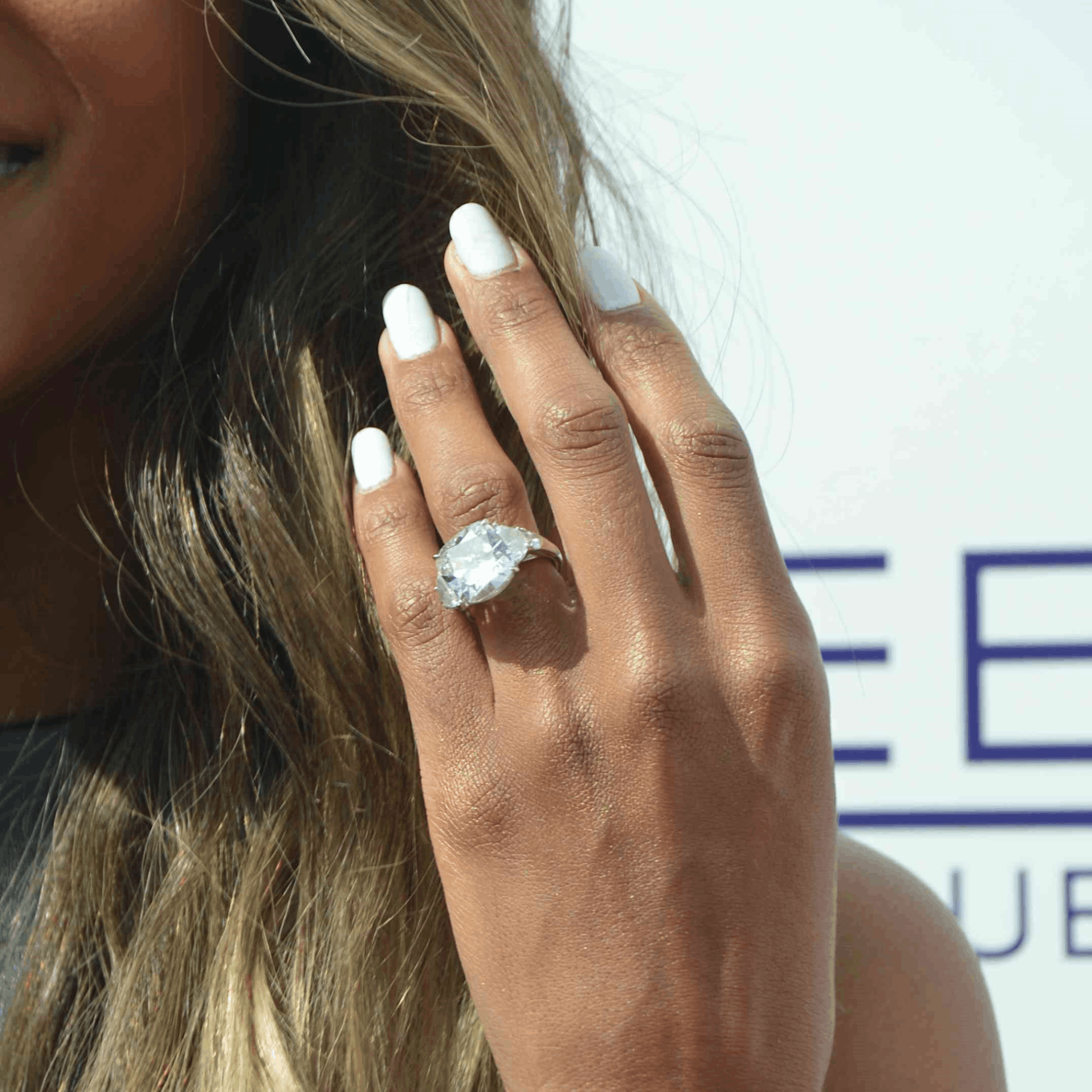 The ring's side stones don't distract from the center stone, while the four surrounding trapezoid-shaped stones are well-balanced. The platinum engagement ring was surrounded by two thick diamond bands on both sides.
Ciara and Russel tied the knot in an English fairytale wedding ceremony in the medieval Peckforton Castle in Cheshire. Ciara wore a white lace gown from Roberto Cavalli while Russell wore a crisp white shirt tucked under a handsome Giorgio Armani tuxedo jacket.
16. Katie Holmes ($1.5 Million)
Action star Tom Cruise gave Dawson's Creek star Katie Holmes a 5-carat Edwardian cut oval diamond ring for their engagement, surrounded by smaller diamonds. Its band is gleaming platinum, adorned with rose gold accents, diamonds along the shanks, and a halo for the balance of the overall design.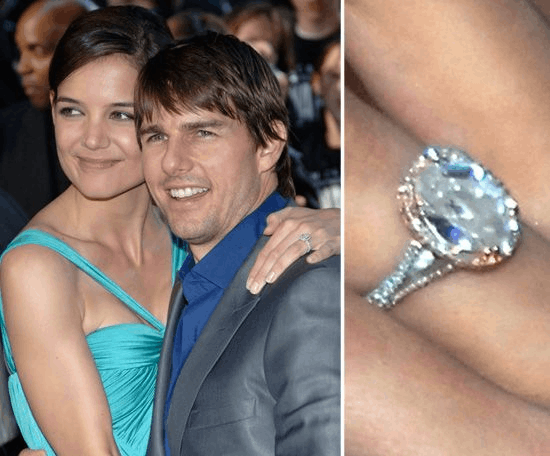 It is said to be worth $1.5 million, which Tom gave Katie when he proposed in 2005 atop the Eiffel Tower. The couple got married in 2006 and split in 2012.
Although Katie is no longer Mrs. Cruise, she set the trend for rings with a rose gold and platinum band. The marriage resulted in the birth of their daughter, Suri.
15. Kate Upton ($1.6 Million)
Kate Upton was given a $1.5 million engagement ring during her engagement to Detroit Tigers baseball superstar Justin Verlander in 2016. Justin worked closely with designer Anita Ko to ensure that the ring was perfect for this bride-to-be. Anita Ko said that she collaborated with Justin to create a one-of-a-kind ring that reflects the couples' love's rarity and exceptional quality.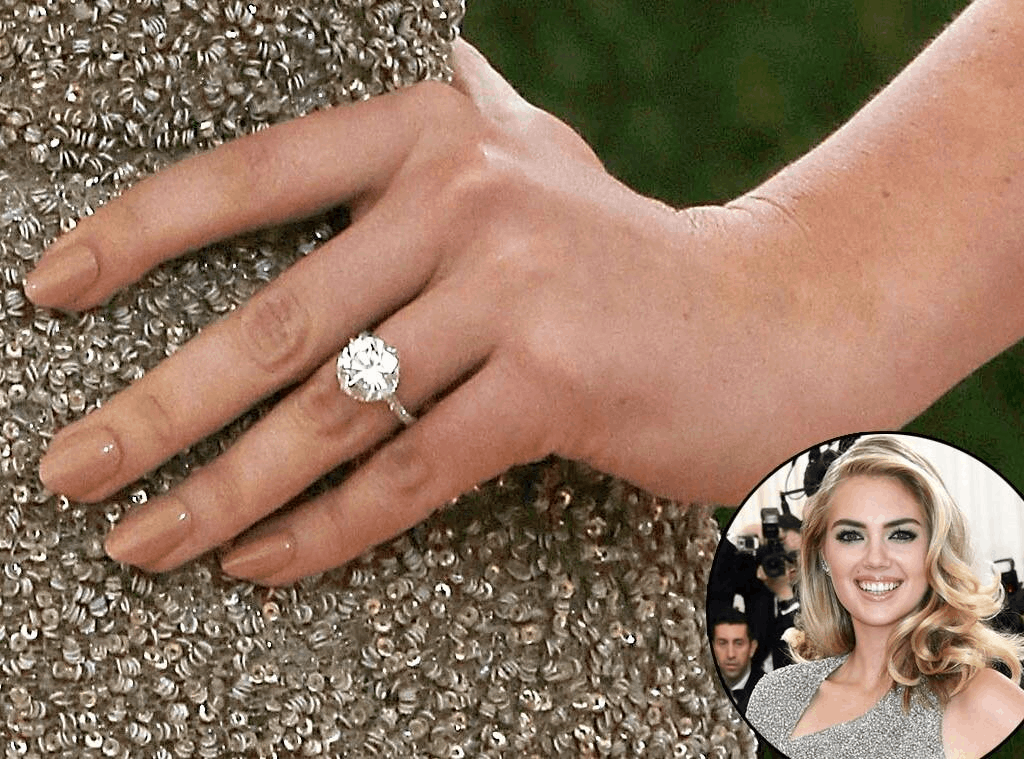 The ring's platinum band features a round 8-carat diamond set in a six-prong setting with more diamonds surrounding the center.
The American model and actress started dating Justin in late 2011, and five years later, Justin popped the question and asked her to marry him.
14. Victoria Beckham ($2.5 Million)
Among the 15 engagement rings David Beckham has given his long-time wife Victoria Beckham, the most expensive one is the 17-carat pear-shaped ring worth about $2.5 million. The ring is set on a diamond pave band and is one of the rings Victoria regularly wears.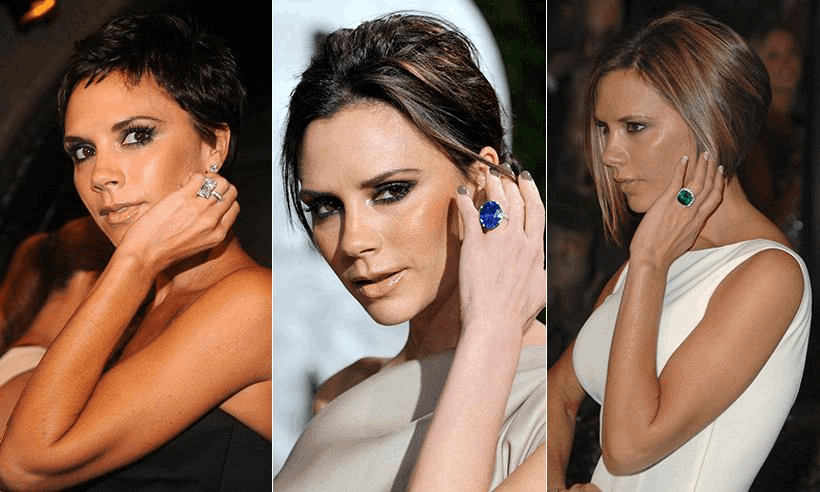 The pear-cut diamond ring was given to Victoria in 2005, which was followed by an emerald-cut diamond ring in 2006– her second colored diamond. The huge diamond is set in a yellow-gold pave band.
In 2010, Victoria wore an oval-cut pink diamond set on a yellow pave band and an oval-cut sapphire on a platinum pave band to complete her precious gemstones set consisting of an emerald, a ruby, and a sapphire.
13. Anna Kournikova ($2.5 Million)
Anna Kournikova received an Argyle diamond ring from pop singer Enrique Iglesias. The ring, which boasts a pear-shaped pink diamond weighing 11 carats at the center and flanked by trillion-cut diamonds, comes from the Argyle mines in Western Australia.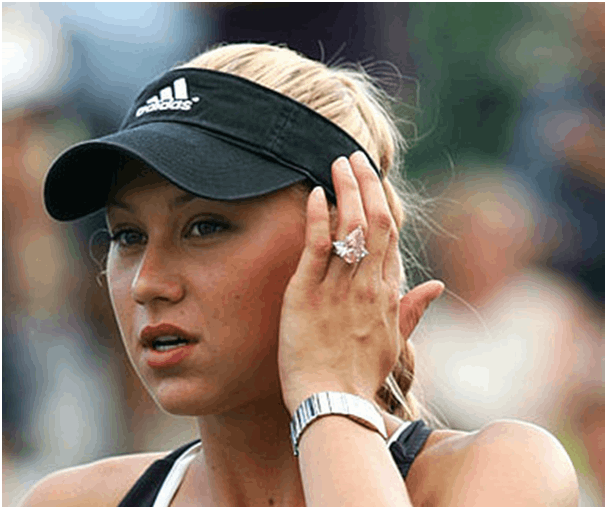 Gems from Argyle naturally have a cognac and champagne color. Anna wore the pink diamond ring during her professional tennis playing days back in the 2000s, which only signifies how much the ring meant to her.
Anna and Enrique do not have plans to marry yet, as they both said they are happy with the status of their relationship. They welcomed their third child last January 2020, a healthy baby girl.
12. Blake Lively ($2.5 Million)
Ryan Reynolds sought the help of his friend, the celebrity-favorite jeweler Lorraine Schwartz, to design the engagement ring he gave his now-wife, Blake Lively. The main focus of the ring is the solitaire-set oval stone, weighing an impressive 12 carats and flawless clarity.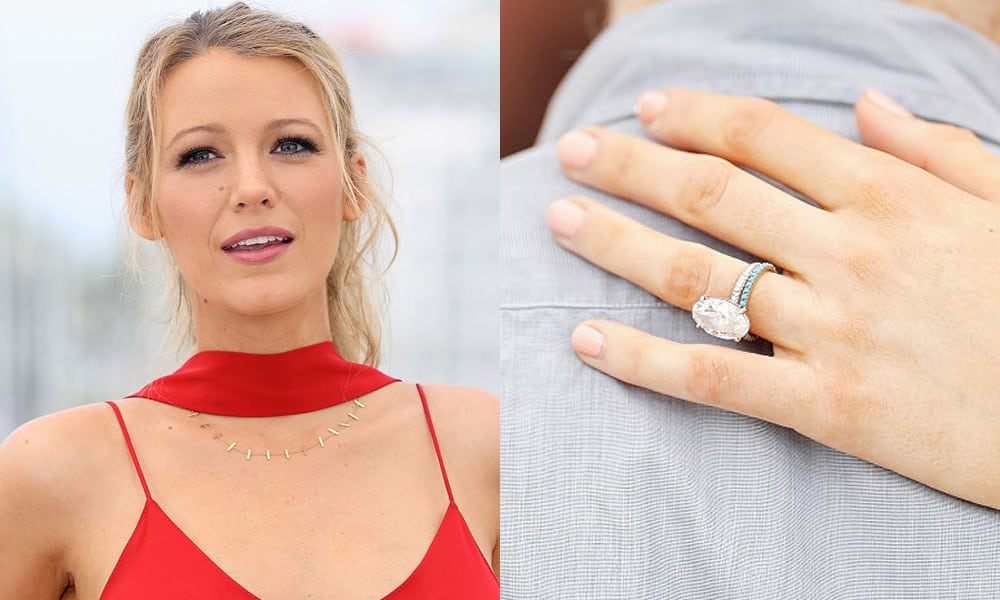 The diamond is colored with a very light blush, and because it is a pink diamond, Blake's ring is considered to be one-of-a-kind, containing one of the rarest colored diamonds in the world. The ring also has a paved band in 14k rose gold– covered with diamonds all around. It is estimated to be worth $2.5 million.
Blake said that Ryan did not let her take part in the designing process of her ring, which she thinks of as a sweet gesture. "I married a gentleman," she responded when asked if she had any hand in designing her ring. The couple is still married with three wonderful children.
11. Mariah Carey ($2.5 Million)
When Mariah Carey got engaged to musician Nick Cannon in 2008, he proposed to her with a 10-carat emerald-cut center stone, surrounded by 58 smaller diamonds that add up to 17 carats.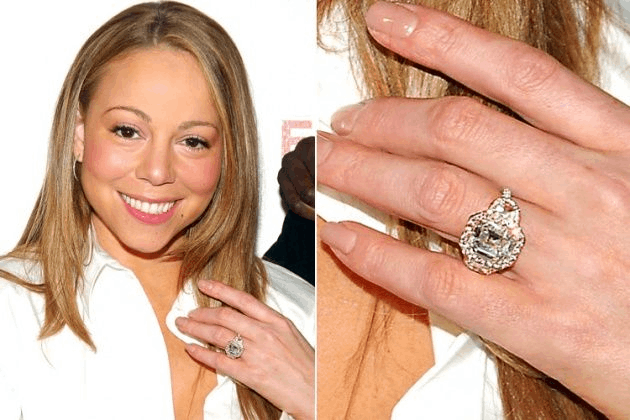 Nick worked with jeweler Jacob Arabo of Jacob & Co to ensure that his fiancée's ring would suit her and express his admiration and love for the singer. The ring's pink center diamond is surrounded by two half-moon diamonds on each side as well.
Mariah and Nick renewed their vows twice, with Mariah receiving new rings each time. For their third wedding, Nick gave her a pave diamond and pink sapphire ring designed to look like the ring he proposed back in 2008. However, their marriage ended after six years in 2014.
10. Duchess of Windsor ($2.5 Million)
Coming in at number 10 is a spectacular, enormous emerald. Not normally the most practical choice for an engagement ring due to its softness, an emerald nonetheless is very elegant and quite rare.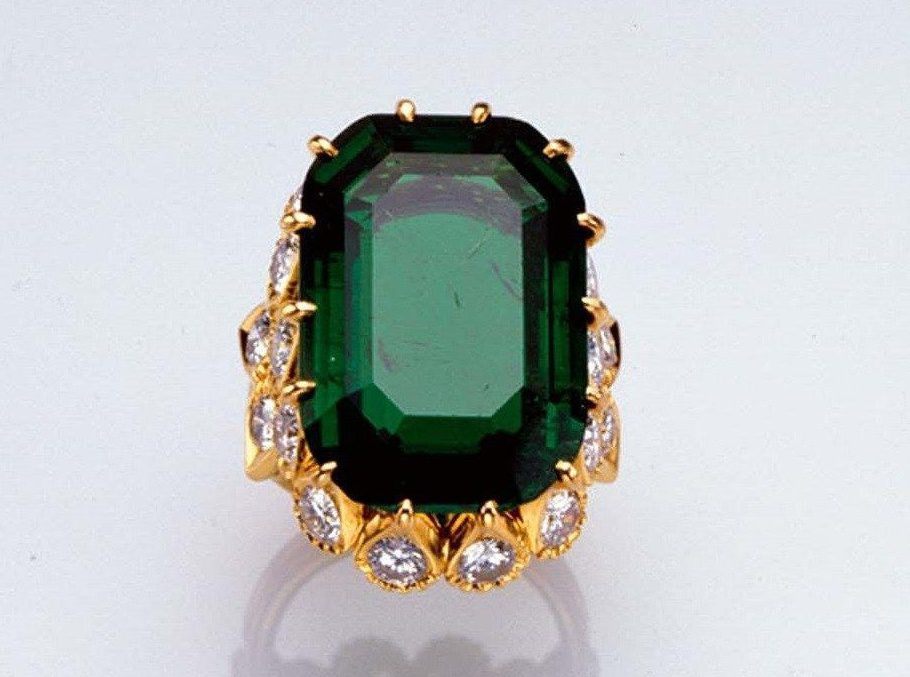 This ring was given to the Duchess of Windsor, Wallis Simpson, from King Edward, who gave up his throne in England to be able to marry her. A spectacular ring for a spectacular gesture!
The platinum-set ring, made by Cartier, features the enormous 19-carat emerald surrounded by diamond baguettes. The ring cost almost $14,000 in 1936 (equal to about $973,000 today). However, the ring's iconic status has risen its value to an estimated $2.5 million.
9. Jacqueline Kennedy Onassis ($2.6 Million)
After the death of her first husband, President John F Kennedy, the United States' former First Lady, Jackie Kennedy, found love again, this time with Aristotle Onassis, a long-time friend, and Greek shipping magnate.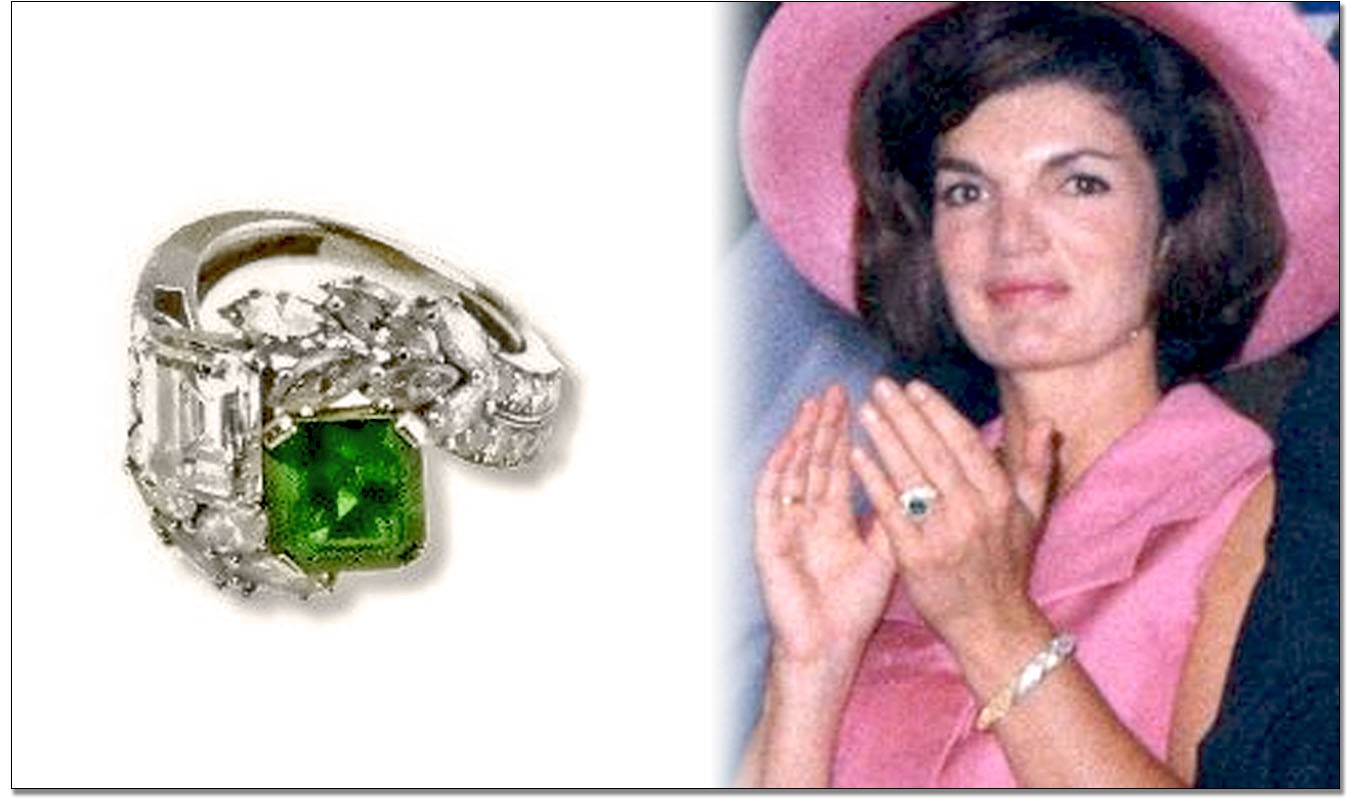 Aristotle proposed to Jackie with an engagement ring from Harry Winston, known for its unique shape and design, and of course, its spectacular Marquise-cut Lesotho III diamond.
Its name comes from being the third-largest cut from the 601-carat Lesotho 'rough' diamond. The ring is a total of 40.42 carats, and Jackie kept it stored in a bank vault. After her death in 1996, the ring was sold at an auction for $2.6 million.
8. Jennifer Lopez ($4 Million)
Jennifer Lopez is on our list again, as she has had five engagements to date, with all five rings precious and eye-catching.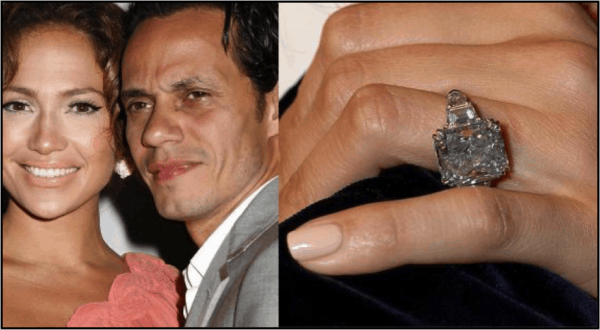 But of all the five rings, the most expensive and beautiful one was gifted by Marc Anthony in 2004. The ring was an incredibly rare, unique blue diamond ring by Harry Winston, totaling 8.5 carats, and worth an estimated $4 million.
Lopez is currently engaged to former MLB superstar Alex Rodriguez, and her current ring is noteworthy as well. Though not much is known about it, professional jewelers who've seen photos suspect the ring to be an estimated 15-carat emerald-cut ring worth anywhere from $1 million to $5 million.
7. Grace Kelly ($4 Million)
A royal happily ever after! Grace Kelly, an American film actress married Prince Rainier III and became the Princess of Monaco. But the iconic and timeless Cartier engagement ring we know to be hers was the second of two rings.
The first ring presented during the actual proposal was an eternity band filled with rubies and diamonds, crafted by Cartier from family heirlooms. While filming High Society, her last film as an actress before retiring to Monaco for royal life, the set's costume designer needed to source a fake ring for the character to wear.
But, the prince simply offered her a real, second engagement ring instead. The emerald-cut diamond ring by Cartier was comprised of 10.48 carats and was estimated to cost $4,060,000. Looking at this piece, we would surely say that it's a perfect gift for a princess to match her timeless beauty and elegance.
6. Vanessa Bryant ($4 Million)
In November 1999, Vanessa met rising basketball superstar Kobe Bryant, and the two dated for six months before getting engaged. They married in April 2001.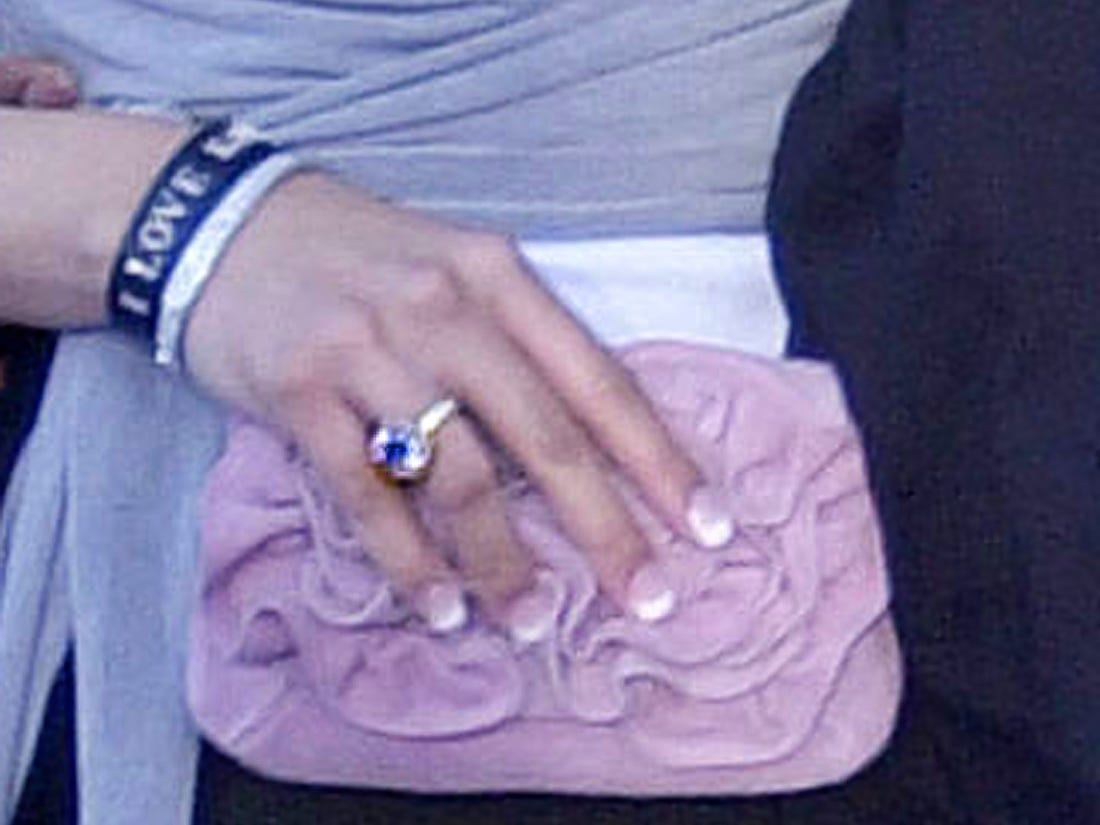 Years later he upgraded her initial engagement ring to a beautifully rare, 8-carat purple diamond ring, worth $4 million. This ring was so popular, it caused a trend in couples choosing colorful engagement rings for their proposals.
5. Beyoncé ($5 Million)
Beyoncé Knowles and Jay Z (Shawn Carter) secretly tied the knot on April 4th, 2008 in the presence of their close friends. The couple never announced their relationship in the media, even after dating for six years!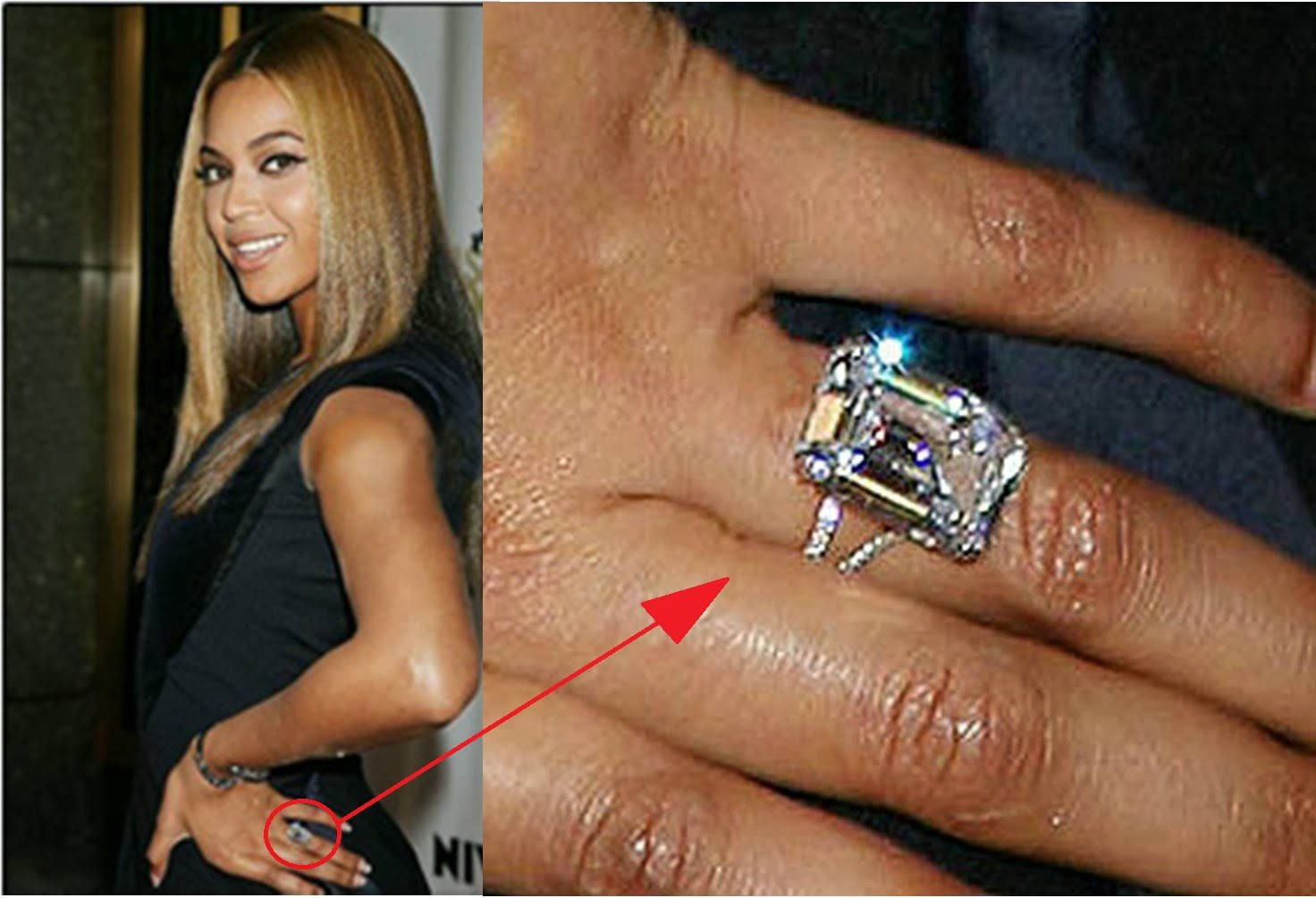 Even though they stayed low-key, the engagement ring didn't fail to make its stunning debut on September 6th, 2008. Beyoncé was spotted wearing this elegant stone on the red carpet for Fashion Rocks at Radio City Music Hall in NYC.
This ring was designed by celeb-favorite Lorraine Schwartz. With a price-tag of a cool $5 million, this 18-carat ring has an emerald cut with a split shank band. The flawless diamonds used in the ring are extremely rare, especially the larger-sized ones.
4. Paris Hilton ($8 Million)
Paris Hilton has had numerous engagements and has yet to walk down the aisle, and each of her rings has been a bauble fit for an heiress, but two of them stand-out in particular.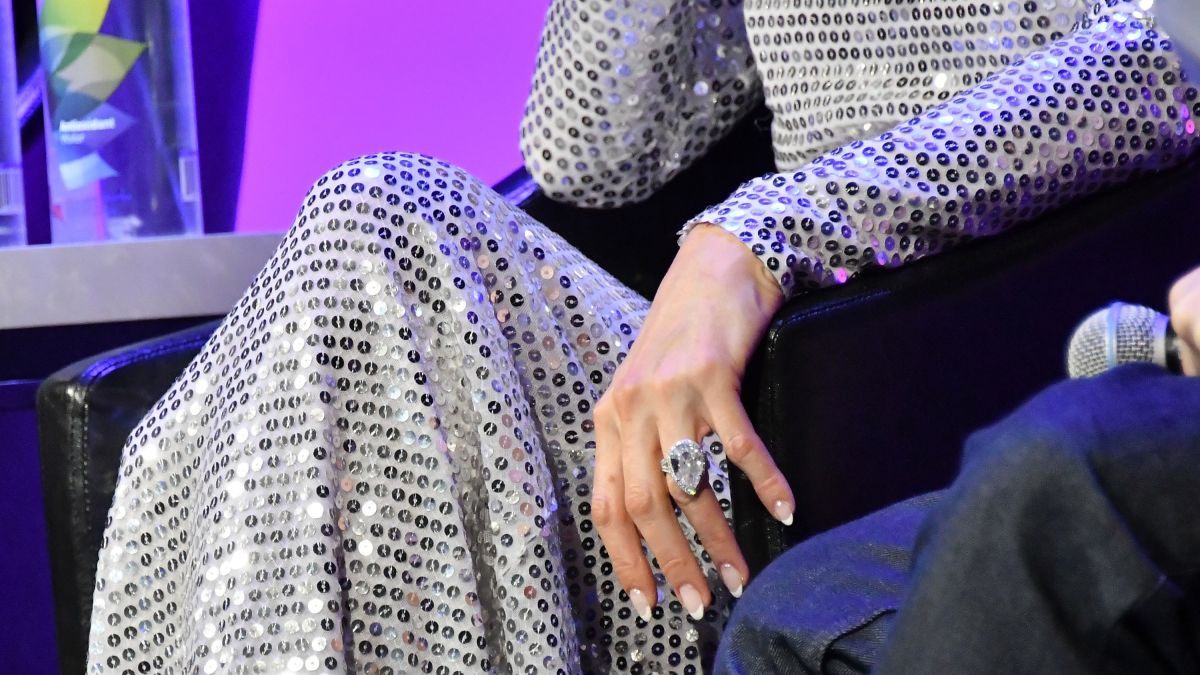 In 2004 Paris got engaged to Paris Latsis, a Greek shipping heir. He presented her with a canary yellow 24-carat engagement ring, estimated to be worth over $8 million, one of the most expensive rings of all time. In 2005 she auctioned it off for about half its value, $4.7 million, and donated the proceeds to victims of Hurricane Katrina.
In 2018, Paris announced her engagement to actor Chris Zylka after receiving a massive 22-carat, $2 million ring, designed by celebrity jeweler Michael Greene. Paris chose to keep this incredible ring after the couple split in late November 2018.
3. Kim Kardashian ($8 Million)
The "Kim Kardashian Wedding Ring" was in the buzz for a year, and many girls still desire to have it. Her ring, which she received from husband Kanye West, is the third most expensive celebrity ring.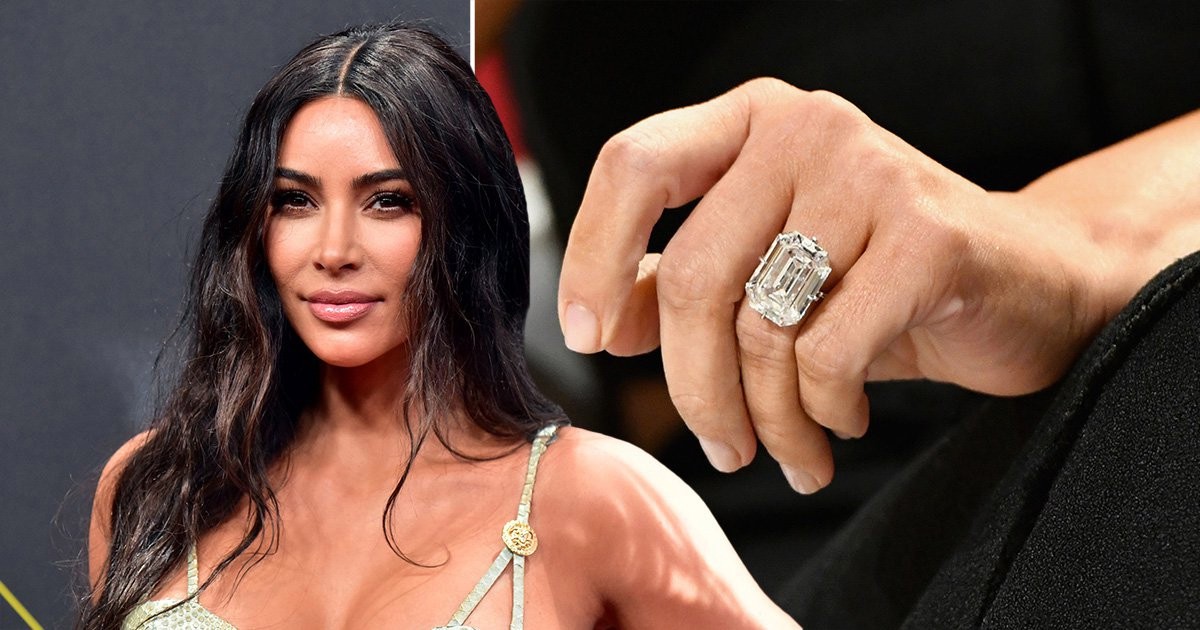 But the story doesn't stop here, because Kim has received two engagement rings after the first was stolen in the 2016 Paris robbery. The first ring was a perfect 15-carat cushion-cut diamond engagement ring.
The second replacement ring Kanye gifted to her was a 20-carat emerald-cut ring, also created by Lorraine Schwartz. The cost of the ring is expected to be around $8 million!
2. Elizabeth Taylor ($8.8 Million)
Elizabeth Taylor is another woman who has had numerous engagements and marriages throughout her life. Some of her rings are so famous, the diamond has even been named after her!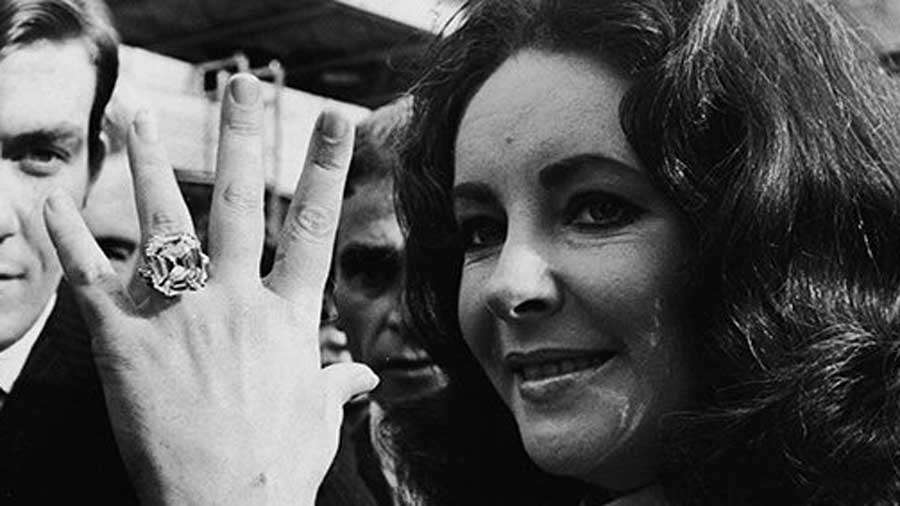 Taylor met Richard Burton on the set of the movie Cleopatra, and four years after getting married, Burton bought Taylor the Krupp diamond ring, a 33-carat Assher cut, ensuring it was bigger than any diamond rings that she had received before him. The large center Krupp diamond is flanked by two baguette-cut diamonds on a platinum band.
After they split in 1976, Taylor chose to keep this magnificent diamond ring with her and sold some other pieces gifted by Burton. After her death, the ring was later sold by Elizabeth Taylor's estate in 2011 for $8.8 million. The ring is now popularly known as the Taylor-Burton Diamond.
1. Mariah Carey ($10 Million)
Mariah Carey appears again and tops the list of most expensive celebrity engagement rings! Her former fiancé, Australian billionaire James Packer, gifted this ring to Mariah back in 2015, a month after they got engaged.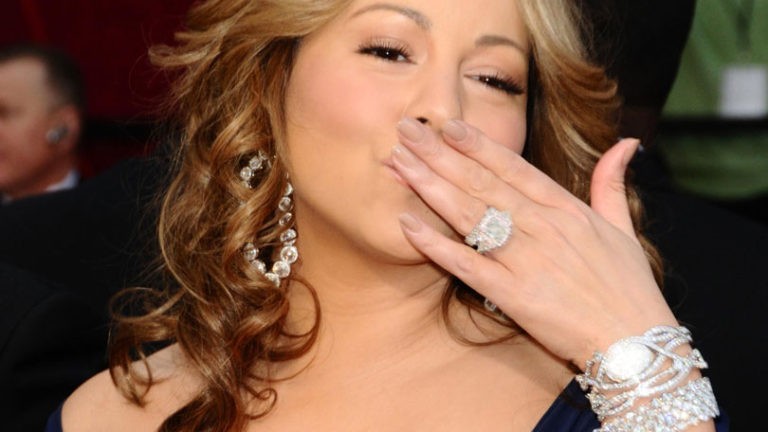 The ring was designed by Wilfredo Rosado whose designs are very popular in the market, with celebrity clients like Julia Roberts, and Olivia Wilde. Rosado says that Mariah's ring was one of the most challenging rings he's ever designed and no kidding!
The mammoth ring is a staggering 35-carat, emerald-cut diamond and platinum ring, with an estimated cost of around $10 million! In 2016, Mariah and Packer split, and she kept the ring as part of an agreement between the pair, but it wasn't long before Mariah chose to sell the ring to a private jeweler in Los Angeles for $2.1 million.
Conclusion
Whether it's film icons like Elizabeth Taylor and Grace Kelly, or singers like Jennifer Lopez and Mariah Carey, women want an engagement ring that is unique and feels right for them, and for gorgeous celebrities with expensive taste, that means spectacular custom rings, often with hefty price tags.
Catching a glimpse of their jaw-dropping rings is always a delight. With the incredibly customized craftsmanship, unique and rare gemstones and diamonds, and in many cases, the sheer size of it, being given such an expensive piece of jewelry as a token of your beloved's love for you would assuredly be quite a thrill!