We dream of living the life of celebrities until we learn that love, when you're famous, is hard. Especially when news of painful breakups is splashed across the internet and magazines for everyone to see.
Nobody is excused from life's parkour whether you are Lady Gaga or Channing Tatum. And the fact that your pain is public makes it a lot worse. However, while separations can be painful, some famous couples who have broken up seem to have done so amicably.
They claim to have understood the underlying reason behind their split and therefore have no bad blood - perhaps! We're going to add to the spotlight on celebrity relationships and look at the separations that shocked us most.
Channing Tatum and Jenna Dewan
On the set of 2006's Step Up, where they appeared as onscreen romantic interests, Channing Tatum and Jenna Dewan's love story started. In 2009, the couple got married and, in 2013, welcomed daughter Everly.
Both Tatum and Dewan released the same announcement in early April 2018 stating that after nine years of marriage, they were amicably separating. They said they had a "magical journey" as a couple, but sometimes great adventures take people on different paths.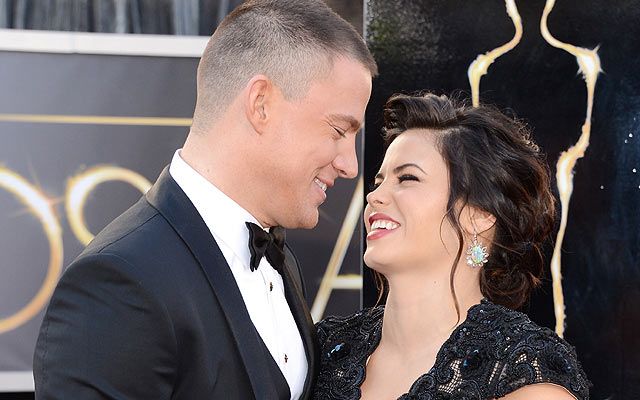 Many celebrity breakups we saw coming, but this case isn't one of them. In October 2018, Dewan started dating actor Steve Kazee. In February 2020, they became engaged and welcomed son Callum in March of the same year.
Tatum wasn't sitting by himself either, the Magic Mike actor dated Jessie J from October 2018 to December 2019. They split for the second time in April after reconciling in January 2020.
Jesse James and Sandra Bullock
In 2005, after meeting Sandra Bullock while she was visiting the set of his Discovery Channel program, Monster Garage, Jesse James married Bullock.
Coming off her glorious Oscar achievement, she discovered that her husband of five years had cheated on her with not one but multiple women. During the controversy, she remained commendably quiet and filed for a divorce that was settled in just 60 days.
Eventually, James got engaged to tattoo artist Kat Von D, but the wedding was called off. He is in the middle of divorce proceedings from his fourth wife now. It is alleged that she also caught him cheating many times.
Bullock, on the other hand, adopted a boy and girl after the break-up. She was nominated for a second Oscar and is now in a relationship with photographer Bryan Randall.
Evan Bass and Carly Waddell
During the 2016 filming of Bachelor in Paradise, the Bachelor season 19 contestant and The Bachelorette season 12 contestant crossed paths. Although their relationship began with a bumpy start, Waddell accepted a proposal from Bass during the season 3 finale.
In June 2017, they returned to Mexico to exchange vows in front of Chris Harrison and the BiP season 4 cast. After over three years of marriage, the couple announced their separation in a joint statement.
The couple announced that their daughter Isabella and son Charlie will continue to be amicably co-parented. Days later, after unwrapping presents on Christmas with Bella and Charlie without Bass, Waddell said she was "not OK."
On December 27, she posted an emotional selfie. Waddell implied in the early days of 2021 that Bass was the one who decided to walk away from their union.
Kelly Clarkson and Brandon Blackstock
The two first met in 2006 at the Academy of Country Music Awards, where Kelly rehearsed with Rascal Flatts for a duet, and Brandon was there as the tour manager of the country group. It took their friendship a couple of years to move beyond that zone.
It was not until a meeting at the Super Bowl six years later that the relationship really began. Brandon popped the question in 2013 with a stunning yellow canary diamond after 10 months of dating. The pair got married four months later at Blackberry Farm in Walland, Tennessee.
Kelly gave birth to their first daughter, River Rose, in 2014. Two years later, she announced the birth of the couple's second child, their son Remington Alexander, again on social media.
On June 4, 2020, Kelly filed for divorce from Blackstock, her husband of almost seven years. She cited "irreconcilable differences" and demanded shared custody of the two kids that the couple had.
Erika Jayne and Tom Girardi
The pair met for the first time when Erika was cocktail-waitressing at Chasen's in Los Angeles, where he was a regular. Girardi invited her out after a year-long friendship. They married at the establishment in 1999.
The age difference of the pair, 33 years, has long been a topic of discussion on the Real Housewives of Beverly Hills, the reality show on which they star. Erika shocked fans in November 2020, when she filed for divorce from her husband of over 20 years.
One month before the surprising split, the couple and Girardi's law firm were accused of embezzling money from settlement funds that were for the families of victims in the Lion Air Flight 610 crash. Some reports believe the divorce was an effort to protect their assets.
Christina and Ant Anstead
In December 2018, popular TV personalities Ant and Christina Anstead tied the knot. They had a son Hudson London, in September 2019. Less than two years after the marriage, they confirmed their separation.
In the past, the popular "Wheeler Dealers" host implied that the separation was "Christina's decision." Currently, Ant has returned to the UK to quarantine with his children from his previous marriage to Louise Anstead.
Anstead also finally opened up on how, since the split, he has been doing. He said he focused a lot on his mental wellbeing, disclosing that he did sign up for an online "breakup recovery" program and a faith-based retreat for both his mental and physical health.
Lady Gaga and Taylor Kinney
In 2011, the singer and the "Chicago Fire" actor started dating when Kinney appeared as the romantic interest in the music video for her song "You and I." They did not show up together much in public, but the pair often shared sultry photos of themselves on Instagram.
The two got engaged in 2015, and shortly afterward even posed naked on the cover of V magazine together. However in 2016, in an emotional Instagram, Gaga revealed they were calling it quits.
Even though it seemed possible that the pair could get back together, a different picture is painted in her documentary "Gaga: Five Foot Two," which follows her during the release of her 2016 album "Joanne."
They broke up during filming and Gaga seems to be blaming Kinney for being intimidated by her achievements, as her other exes were. She also said her lead role in "A Star Is Born," with Bradley Cooper led to their separation.
Angelina Jolie and Brad Pitt
This one was a major shocker. Just as surprising as the A-list duo of Brad Pitt and Angelina Jolie burst onto the scene, it ended as well. Their romance started on the set of "Mr. & Mrs. Smith" in 2005 when Pitt was married to Jennifer Aniston.
The long-time couple got engaged in 2012 and, at the insistence of their six children, married at their French chateau in 2014. But the relationship devolved during Jolie's 2015 "By the Sea" directorial effort in which the couple co-starred.
By the end of 2016, there were accusations of abuse and then a divorce. The decision to divorce has been taken "for the family's health," they stated. Brad and Angelina may have separated back in 2016, but it was not until 2019 that a judge legally ended their union.
The move did not seem to be linked to any new relationships and, in addition, after the decision was made, neither Angelina nor Brad have moved on with a public relationship, while rumors about Pitt's love life are always circulating.
Mariah Carey and Nick Cannon
Mariah Carey and Nick Cannon met at the Teen Choice Awards in 2005. He appeared in her music video 'Bye, Bye' three years later, and fireworks ignited. The iconic singer and Wild 'n Out host shocked fans when they got married after dating for a few weeks.
They welcomed twins Monroe and Moroccan in 2011. They shocked everyone again in 2014 when they revealed they were splitting, Their separation is thought to have been a long time coming.
There have been claims over the years that Cannon was always working too much and away from his family, as well as claims that he was disloyal to Carey.
The actor, however, denied that he cheated and talked about the reason for their separation, stating it's because they were no longer growing as a couple. Cannon clarified that he would co-parent very well with his ex because they always consider their twins first.
Conclusion
It is never easy to break up, and these couples know that more than anyone. Some of these stars have just broken ties with their significant others while others have children involved, which can be more difficult.
As fans, it's always hard to see celebrity relationships you've been in support of (or at least slightly fascinated by) just crumble. But then again, we watch celebrities like we watch characters on TV shows and their breakups impact us at the tv level.