Getting tattoos may be considered a major life decision since they will be etched permanently on our bodies unless we choose to remove them, which would be costly and painful at the same time. This is why many people think hard before deciding to get a tattoo.
Most tattoos are visually stunning and have deeper meanings within them but for some celebrities, their tattoos range from amazing to just plain weird, prompting people to ask "Why?." From ketchup bottles to incorrect song lyrics, here is a list of some of the most surprising and unforgettable celebrity tattoos.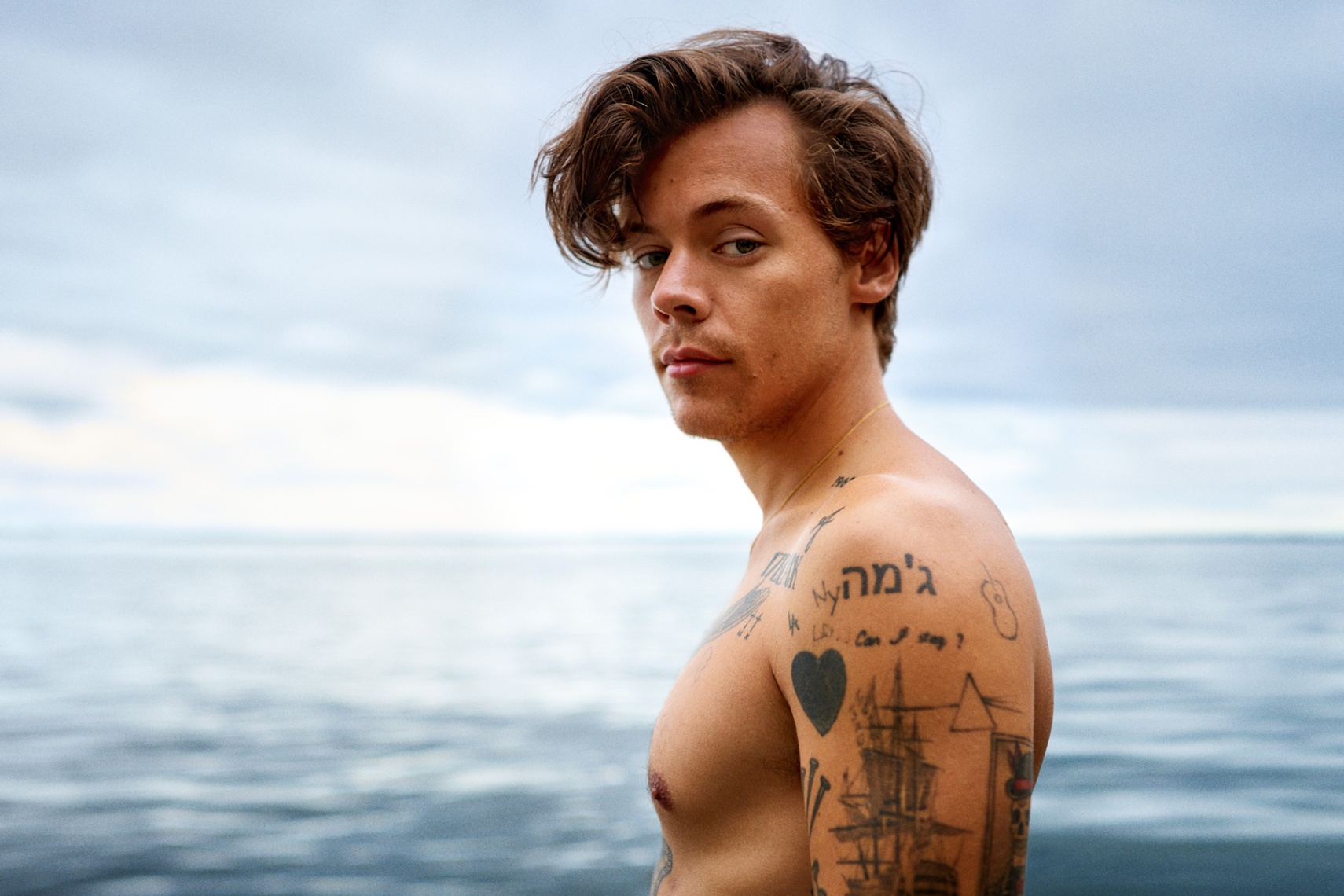 Miley Cyrus – Vegemite
In 2016, Wrecking Ball singer Miley Cyrus got a tattoo of a jar of Vegemite, the favorite Australian food spread of her then-boyfriend Liam Hemsworth. The tattoo, which can be found on the back of her arm, was done by Los Angeles's most sought tattoo artist, Dr. Woo.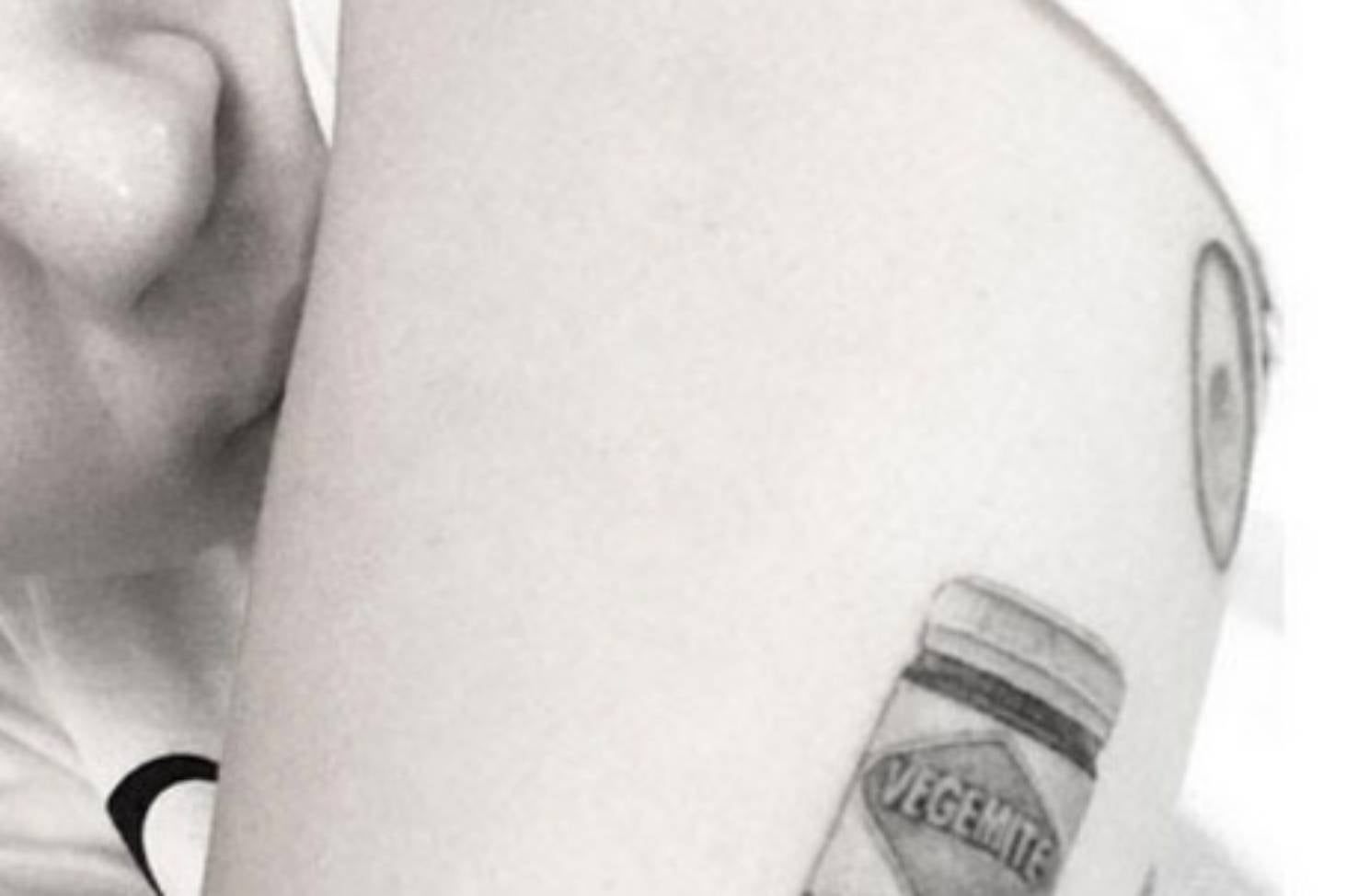 Cyrus adds the image of the brown spread from Australia to her collection of tattoos, which include a pufferfish, an avocado, and the planet Jupiter. Vegemite's official Twitter account posted its approval of the singer's tattoo.
Even after Cyrus and Hemsworth had their divorce finalized in January 2020, the Hannah Montana star hasn't removed the tattoo. However, she added a "freedom" tattoo on her right hand after their separation.
T-Pain – Facebook Like
Facebook has become part of most celebrities' lives as the social media platform enables them to communicate to fans and promote themselves as artists so it's not unusual that they "like" the online social network.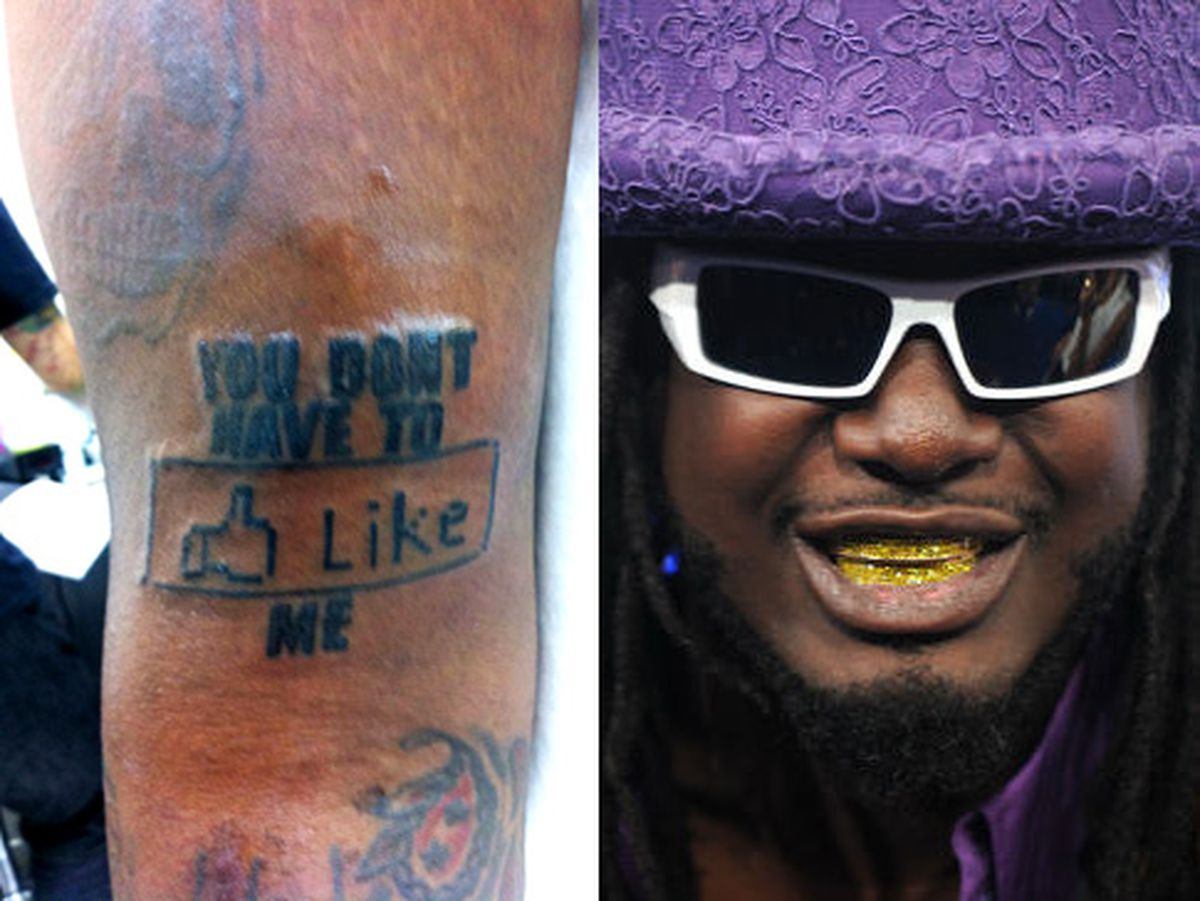 However, rapper and producer T-Pain took this to the next level in 2011 when he got a tattoo of the iconic Facebook "Like" symbol. The entire tattoo reads "You don't have to like me."
The Grammy Award-winning musician, who we came to know for his songs I'm Sprung, Buy U a Drank, and Bartender, tweeted a picture of the tattoo with the caption, "I think this ones [sic] pretty sweet, unless facebook shuts down soon 0_o." In addition to this tattoo, T-Pain also had the word "Tattoo" inked on his neck.
Ariana Grande – Barbecue Grill
Tattoos written in a foreign language can be considered cool and may strike up a conversation at times but they can also be tricky as simple mistakes could lead to disaster. This is what happened with Ariana Grande's 7 Rings palm tattoo.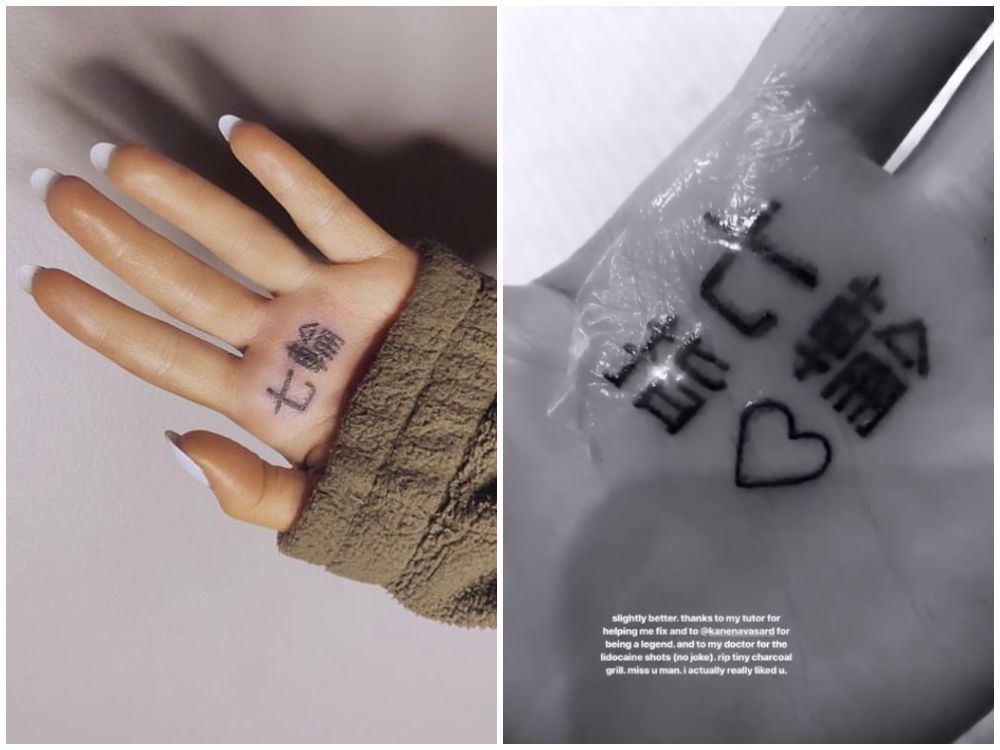 To celebrate the release of her new single 7 Rings, Grande got a tattoo of Japanese characters on her palm which she thought to have meant "7 Rings" and posted it on Instagram. However, the singer's fans and critics quickly noticed the mistake, telling her the characters translate to "shichirin" in Japanese, which refers to a small barbecue grill.
The mix-up may be understandable as the kanji characters mean "seven" and "hoop, circle or ring" separately. The tattoo has since been corrected by Grande by adding the characters needed to denote the intended meaning.
Ed Sheeran – Galway Grill
Misspellings are hardly an unforgivable mistake but they surely can be if they're inked on your skin forever. Could this be the case with Ed Sheeran's "Galway Grill" tattoo?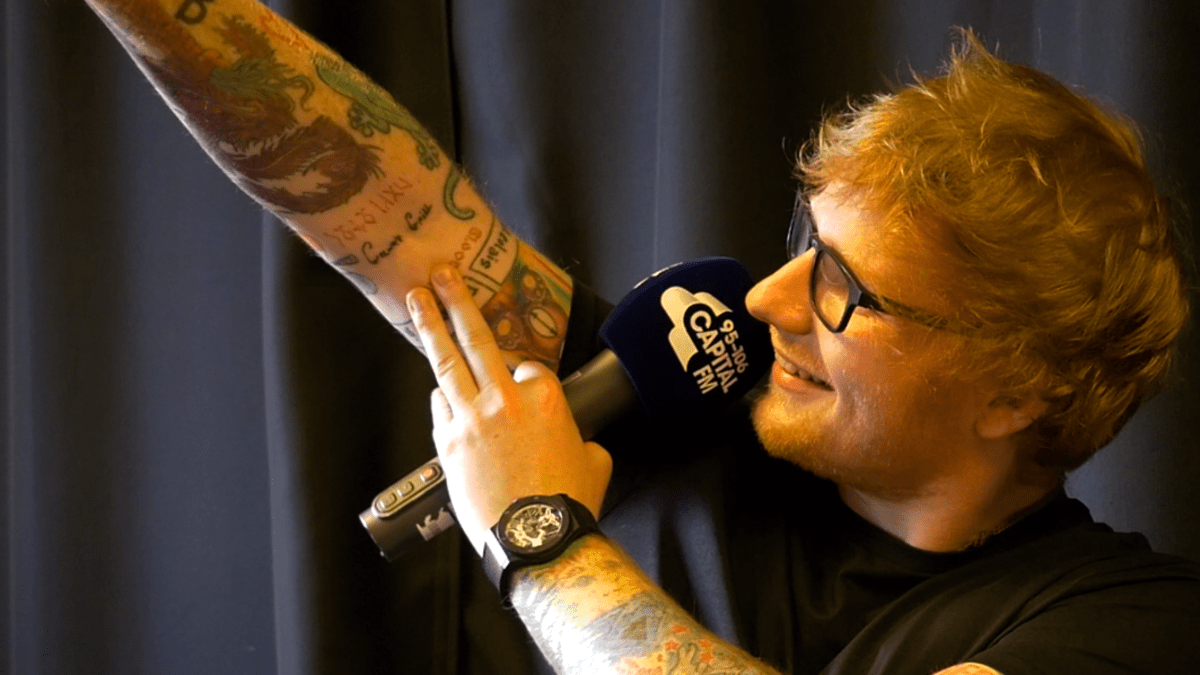 For the music video of his song Galway Girl, Sheeran featured Lady Bird actress Saoirse Ronan and as it turned out, she was the culprit of the misspelling of Ed's own song title. Initially, the Thinking Out Loud singer tried to pin the error on Ronan but she later explained what happened on The Late Late Show with James Corden.
She said: "Ed got up on stage like two days after we did it and said I had made the mistake, and it makes me look illiterate. I am just here to say that it was all planned, because we thought it would be funny and edgy if we misspelled 'girl,' and made it 'grill' instead."
Nicole Richie – Virgin
If you ever see the word "virgin" tattooed on someone, would you assume that it refers to the person having a Virgo zodiac sign? If your answer is no, then you're thinking is different from TV personality Nicole Richie.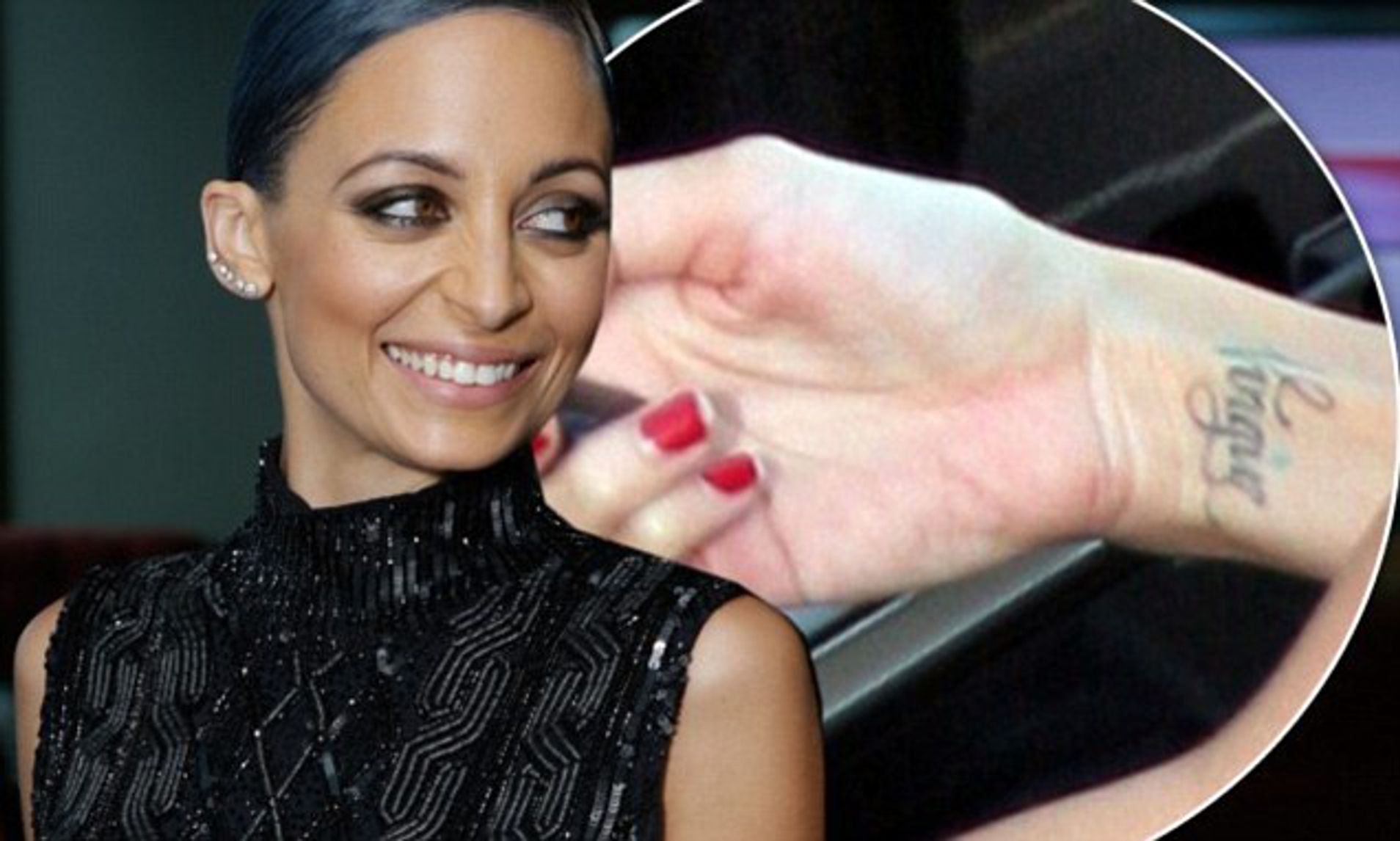 According to The Simple Life star, she had the word "Virgin" tattooed on her wrist when she was a teenager.
In a 2014 interview with E! News, Richie described her ink as "embarrassing and desperate" and explained: "Now, I am a Virgo so when I was 16 I thought, 'Ooh I'm going to be different and I'm going to put virgin, because the Virgin is the sign for Virgo.'"
Ke$ha – SUCK IT!
For some time, inner lip tattoos became a trend among celebrities, and among them was singer and songwriter Kesha.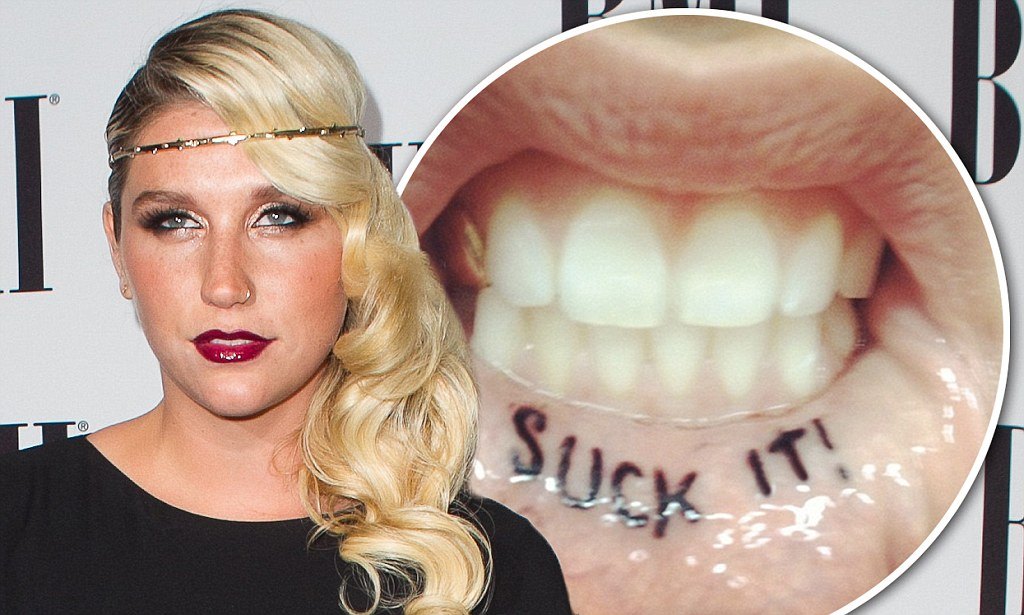 In 2012, the Your Love Is My Drug singer had the words "SUCK IT!" tattooed on her lower inner lip at the Los Angeles shop Alchemy Tattoo. According to Kesha, she was tired of her haters and it was her message to them.
Years before the TikTok app became a global sensation, Kesha debuted with the electropop song TiK ToK, which went on to become one of the best-selling digital singles worldwide, selling over 18 million pure copies, and was ranked 61st on the Billboard Hot 100 Songs of All-time.
Kendall Jenner – Meow
While we're on the subject of inner lip tattoos, another popular one is Kendall Jenner's "meow" ink. The reality TV star had the word tattooed on the inside of her lower lip while she was drunk one night in September 2016.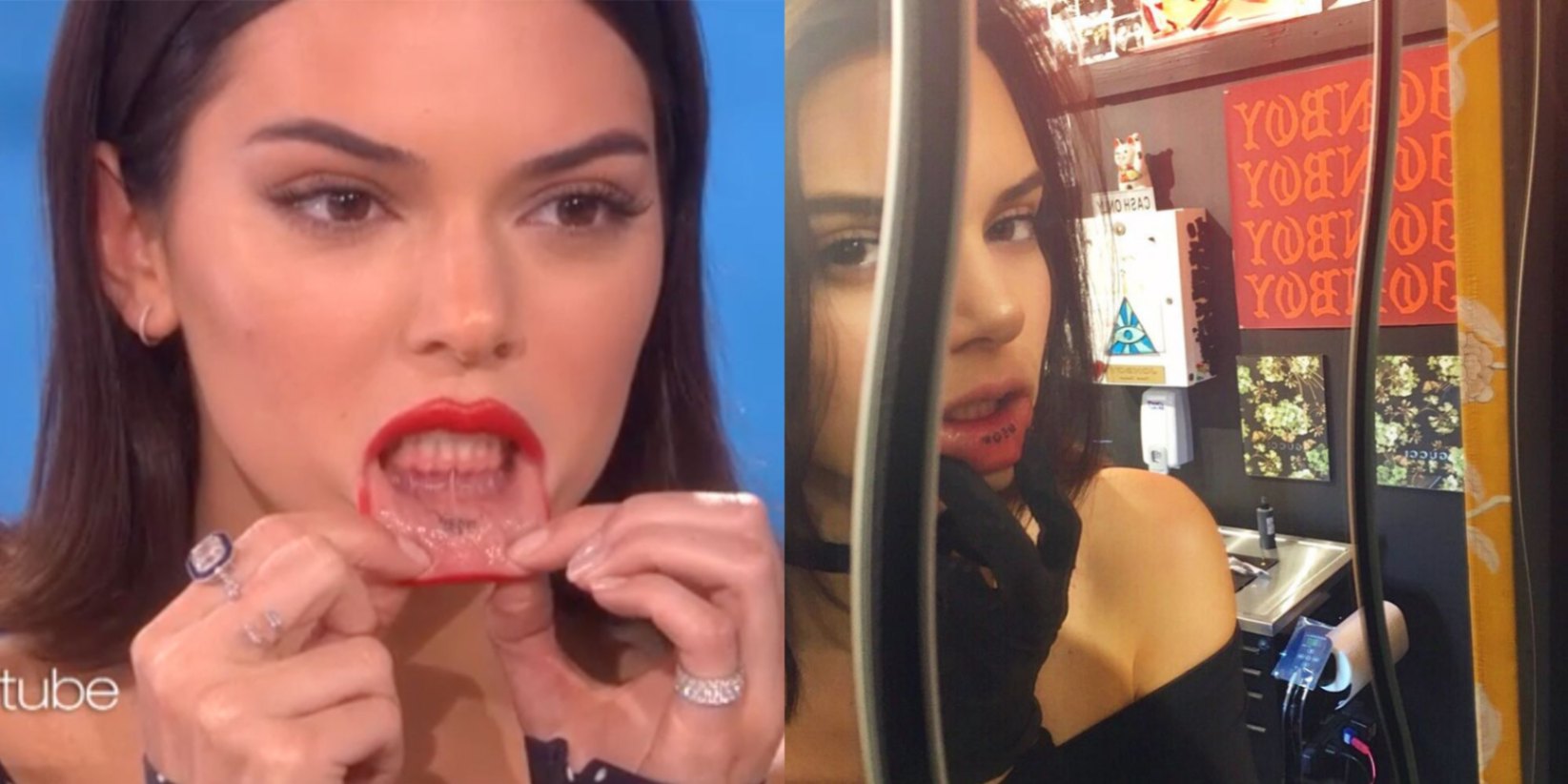 While hidden, the tattoo became public knowledge after her tattoo artist posted it on Instagram shortly after their session.
In an interview with Ellen DeGeneres, she said there was no particular reason for choosing the word. "I was drunk! I was drunk!! I was not thinking clearly. It was literally the first thing that came to my mind, like, I don't know! Just like my drunk thoughts."
Harry Styles – Incorrect Sweet Disposition Lyrics
Getting the lyrics of a song wrong may not be a grave error for most people but committing the mistake for a tattoo may seem incomprehensible. This is what happened with former One Direction member Harry Styles when he wanted to have The Temper Trap's "Sweet Disposition" song lyrics inked on his arm.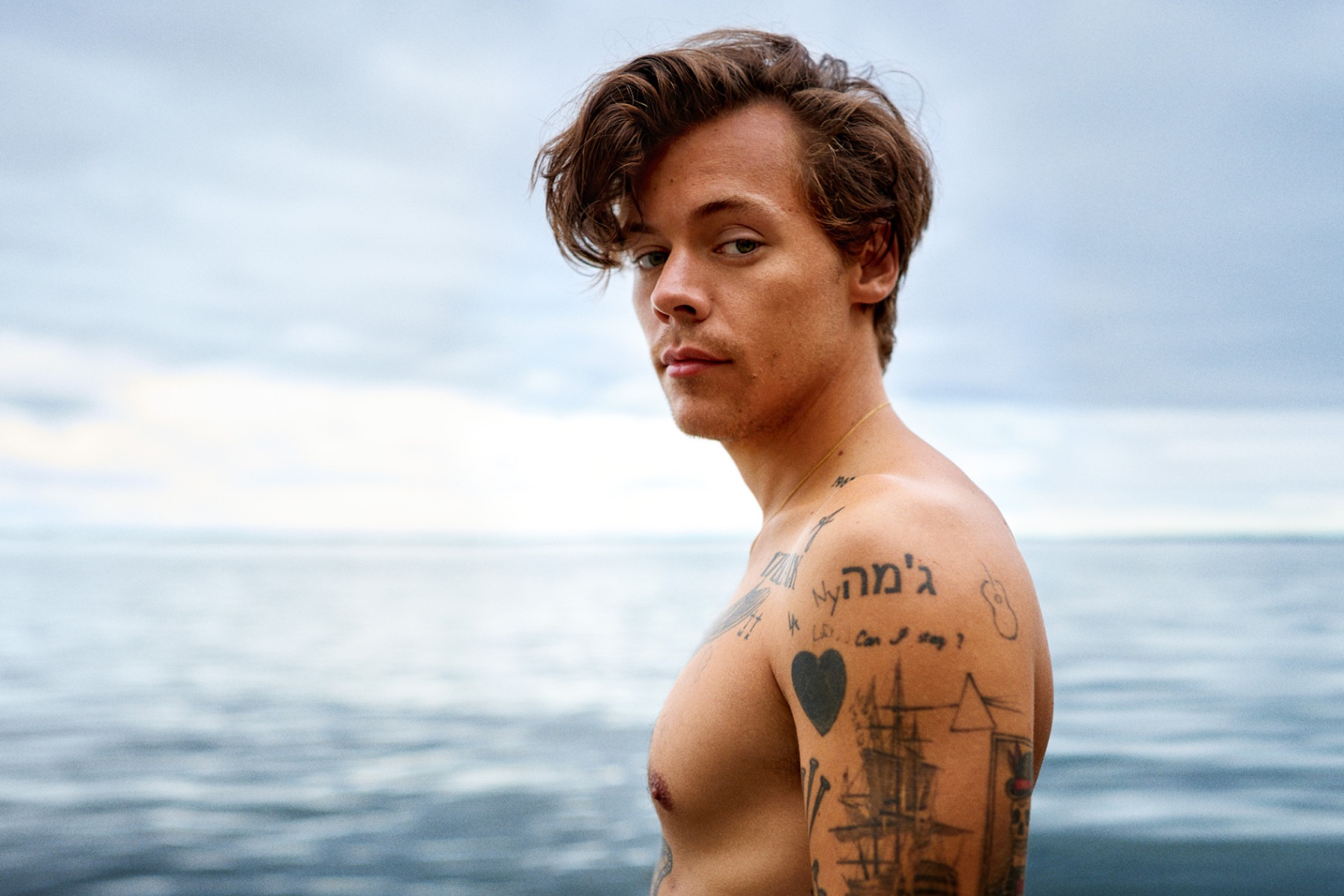 The Sign of the Times singer had the words "won't stop 'till we surrender" tattooed when the correct lyrics were "won't stop to surrender." According to a report, his then-girlfriend Taylor Swift told Styles that he had the wrong lyrics but he did not believe her.
When Swift met the band at the ARIA Awards in Sydney, she asked them to write down the lyrics and sign them so she can give it as a gift for her "boyfriend's birthday." The band's frontman Dougy Mandagi recalled: "So I had this dilemma in my mind at that point – 'do I write the wrong lyrics? Do I write the right lyrics?'"
Hayden Panettiere – Italian phrase
Some say that when getting a tattoo, pick the design that you won't regret later. This is why actress Hayden Panettiere found it ironic when she misspelled her tattoo, "Live without regrets" in Italian.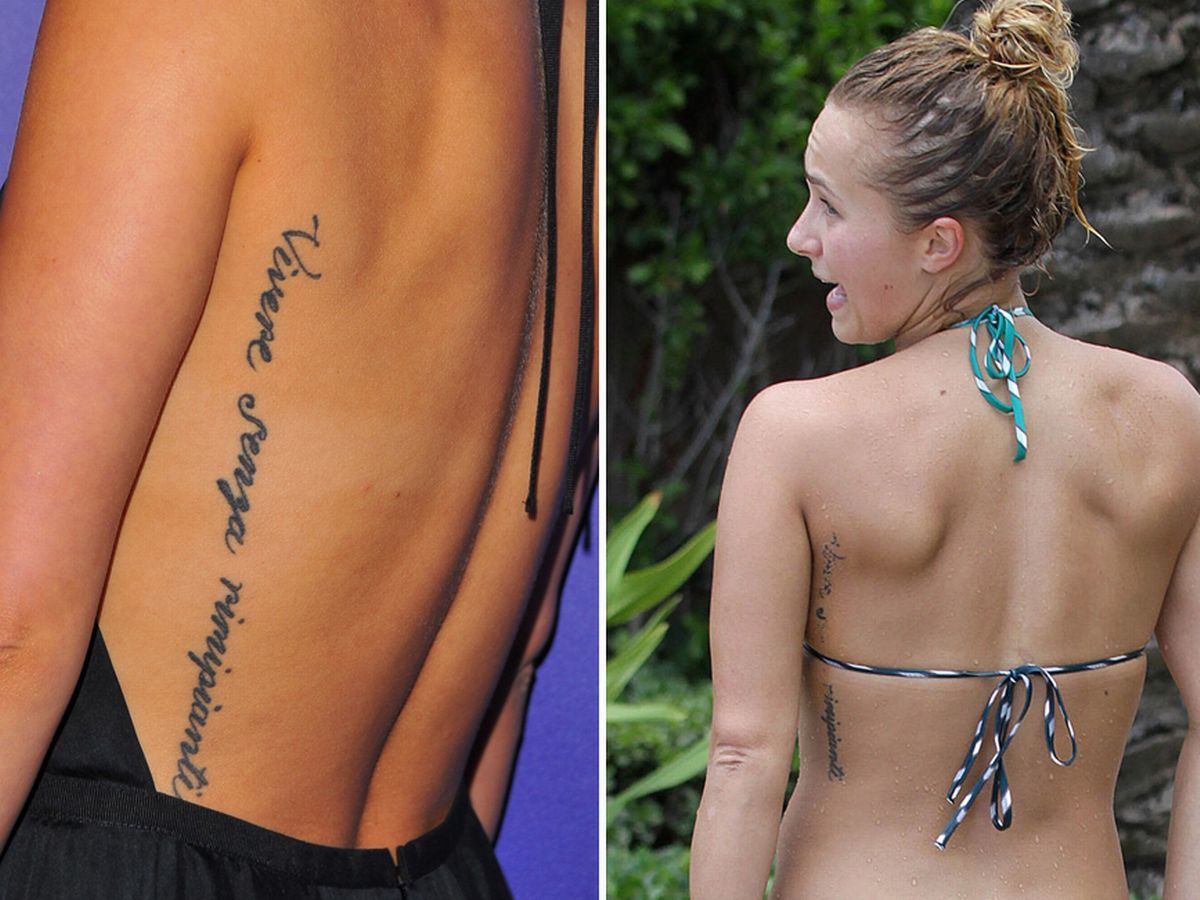 The I Love You, Beth Cooper star's ribcage tattoo should say "Vivere senza rimpianti," but the last word was incorrectly written as "rimipianti."
In a 2013 interview with the magazine Glamour, Panettiere joked about the error and said "So I literally have to live by that advice!" She has been gradually having the tattoo removed since then.
Jackson Rathbone – Heinz Ketchup
What's worse than spilling ketchup on your clothes? It's having ketchup tattooed on your body and Jackson Rathbone didn't seem to mind.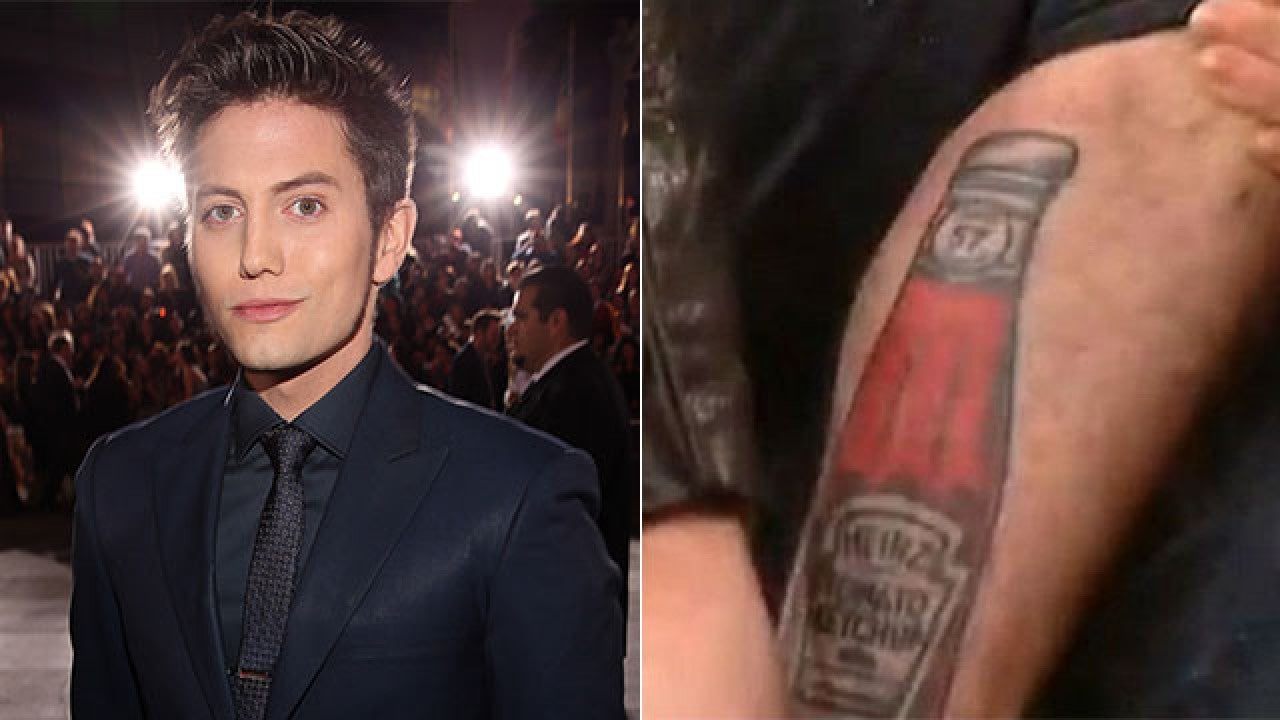 The Twilight actor had a Heinz Ketchup bottle tattooed onto his right leg because he lost a bet to a friend.
Speaking on The Wendy Williams Show, he said "I love ketchup, I got a lot of flak for it growing up. My dad would always say, 'You want a little burger with that ketchup?'"
Ryan Cabrera – Ryan Gosling
Just when you thought food spreads and ketchup bottles are the weirdest kinds of tattoos, here comes a celebrity with the face of another celebrity inked on his leg.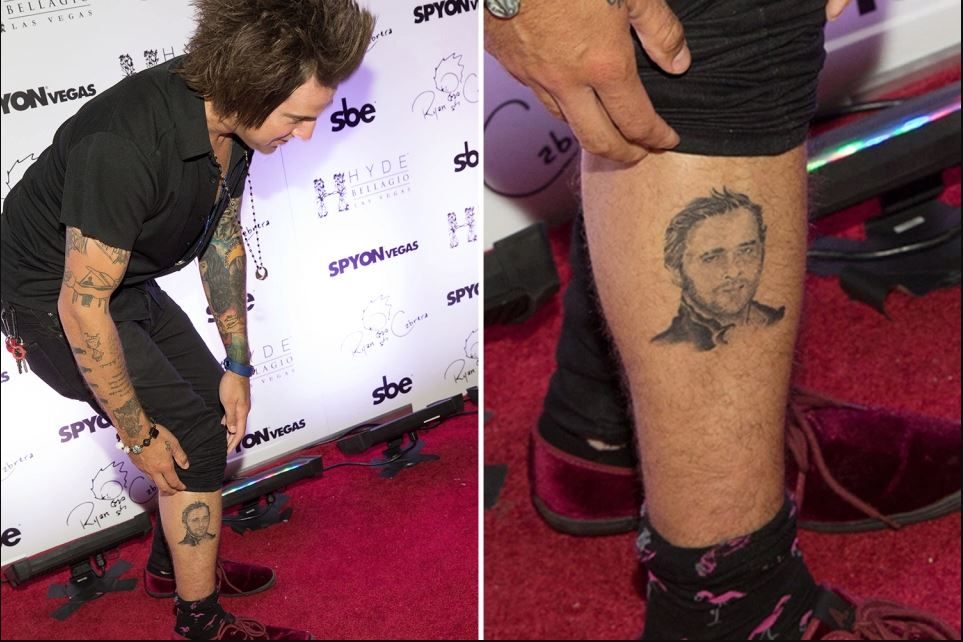 Musician Ryan Cabrera has the face of La La Land actor Ryan Gosling tattooed on his right leg. According to the On the Way Down singer, he played tattoo roulette with his friends and one of them chose Gosling's face to be his tattoo.
Cabrera said he has not shown it to the actor nor does he ever plan to do so.
Conclusion
Tattoos are a form of self-expression and most of the time, they have a special meaning or represent an important part of our lives.
What we can learn from these surprising celebrity tattoos is that we should be careful in choosing what we want to be inked on our bodies to avoid having regrets later.