Beyoncé Knowles is a Grammy Award-winning, multi-platinum recording artist renowned for her thrilling voice, videos, and live performances.
Her name is one of the most recognized in the world, and she is one of the biggest pop stars of the last decade. Many people wonder how Beyoncé made her claim to fame and how she went on to become one of the biggest female icons the music industry has ever seen.
If you're one of those people, then you've come to the right place. Read on to learn all about Beyoncé.
Who Is Beyoncé Knowles?
Born in 1981, Beyoncé Knowles first captivated the public eye as the lead vocalist for Destiny's Child, a highly popular R&B group from the 90s.
She was a part of the group for several years, and Destiny's Child was one of the most popular R&B bands of their time, topping the charts frequently and selling plenty of records. However, they were not meant to be together, and Beyoncé broke off later to establish her solo career.
She did so with her debut album Dangerously in Love and became one of the top-selling artists of the music industry, with a plethora of awards and sold-out tours.
She has also been the star of several films, including Dream Girls, proving that she's not just a gifted singer but also a talented actress. Beyoncé is truly one of the most versatile artists out there, but fans have been aching for a new album for years now.
Early Life
Born Beyoncé Giselle Knowles on the 4th of September, 1981, Beyoncé hails from Houston, Texas. She has always had a gift for music and began singing from a young age, impressing her family with her vocal talent.
She competed in a number of local talent shows and won many of them by impressing the audiences and the judges with her singing and dancing abilities. Did she know that she would go on to be one of the most successful female artists of all time?
Perhaps she did. Beyoncé proved from a young age that she was an extremely talented singer and a skilled dancer as well. Early in her life, she combined these two talents to hone her performance skills.
Part of the reason she is so loved today is that she has flawless live vocals and can maintain her incredible singing voice while performing high-activity, challenging choreography.
Destiny's Child
Teaming up with Kelly Rowland, her cousin, and two of her classmates, Beyoncé formed an all-woman R&B singing group called Destiny's Child.
Matthew Knowles, her father, acted as the manager for the band, and there were a number of name and line-up alterations before they scored a record deal in 1997 with Columbia Records.
Destiny's Child quickly became one of the most famous R&B groups, thanks to the release of their self-titled, first release album.
As it gained even more success, the band landed its first number-one single on the pop charts, thanks to Bills, Bills, Bills, a song from their second album. The album also featured Say My Name, which is one of the band's most recognizable songs.
While she enjoyed the success of her group, Beyoncé started to explore other ventures. In 2001, she made her acting debut in Carmen: A Hip Opera as the lead role.
Solo Career
In the music scene, Beyoncé took center stage as a solo artist, releasing Dangerously in Love, her first album, in 2003. The recording became a massive success for the artist, both critically and commercially. It won five Grammy Awards and sold millions of copies.
Beyoncé worked with several different artists on the album, including Sean Paul, Missy Elliott, and Jay-Z. At the time, it was rumored that she was dating Jay-Z, though there was no public acknowledgement.
The last studio album that Destiny's Child released came out in 2004 and was aptly named Destiny Fulfilled. The following year, the group split. On her own, Beyoncé experienced massive success, with her second studio album from 2006, B'Day, featuring hits like Deja Vu and Irreplaceable.
On the acting front, she starred alongside Jamie Foxx, Jennifer Hudson, and Eddie Murphy in Dreamgirls. The film was an adaptation of the popular Broadway musical of the same name.
Marriage to Jay-Z
Beyoncé married music-mogul and rapper Jay-Z in 2008, in a small, private ceremony in The Big Apple. Her mother, Tina Knowles, father, Matthew, Kelly Rowland and Michelle Williams of Destiny's Child, and Gwyneth Paltrow were some of the guests spotted in attendance.
Even shortly after her marriage, Beyoncé worked as hard as ever and promised her latest album, I am… Sasha Fierce. Two of the biggest songs from that album were if I Were a Boy and Single Ladies.
On top of her performing and acting, Beyoncé released a clothing line known as House of Dereon with her mother. She also launched a fragrance in 2010, called Heat.
For the duration of her booming career, Knowles has been a model and spokeswoman for a number of other brands, including Tommy Hilfiger and L'Oréal. Once again, Beyoncé proves that she is a woman of many talents and that there's really nothing she can't do.
Surprise Album
Beyoncé walked away with six honors at the 2010 Grammy Awards, which is the most wins in a single night by any female artist at the time. Two years later, Adele matched her record.
In 2010, she also came joint-first place for the most number-one hits on Billboard's Pop Songs chart, based on radio airtime. By 2013, Beyoncé had earned herself 16 Grammys, cementing her place as one of the most successful artists of all time.
Once again, in 2013, Beyoncé broke records thanks to her fifth studio album, Knowles. The album was a surprise to both critics and fans because she didn't promote it before releasing it.
Knowles called the record a 'visual album' and was released on iTunes exclusively, with physical discs available purchase after the 18th of December that same year.
On the weekend it was released, the album sold an astonishing 800 000 copies. That year, she also released Self-Titled, a mini art feature comprising several parts that give a glimpse into BEYONCÉ. In Part 2, Beyoncé reflects upon the importance of finding beauty in imperfection.
Second Super Bowl & 'Lemonade'
In 2016, Beyoncé took to the Super Bowl stage once more, earning raves for her performance. This time, she appeared with Chris Martin from Coldplay and Bruno Mars at her side, highlighting Foundation, her new single, and also announcing a world tour.
The song, its video, and the halftime show that came with it received a lot of attention for its political imagery and lyrics on everything from Hurricane Katrina to Black Power.
A mere two months later, Lemonade, the hour-long conceptual film, was released, presenting songs from the upcoming album of the same name, which was released right after.
The film depicted the singer reeling from the sexual and romantic betrayal that her partner had committed while also praising the strength of African American women communities.
Serena Williams and Quvenzhane Wallis also appeared in the film, which was helmed by a number of directors, and even included some of Warsan Shire's poetry.
Coachella & More
In 2018, reports began to surface, stating that Beyonce was working on new music and preparing to embark on a tour with her husband, Jay-Z.
Following a false alarm where a tour announcement showed up and then soon disappeared from the singer's Facebook page, the couple announced that the On the Run II Tour would start off in Wales in June of that year.
A year after she canceled her Coachella appearance due to her pregnancy, she was on the stage for a highly-anticipated performance at the Music Festival in April 2018.
She was the first black woman to headline the event and stunned the critics and audience with her phenomenal singing and choreography, performing favorites like Crazy in Love, and she was also accompanied by Jay-Z, the rest of Destiny's Child, and her sister Solange during the two-hour-long set.
Homecoming
In 2019, the singer released a documentary about her performance at Coachella, called Homecoming, and a surprise album that featured 40 live tracks. Later, The Lion King premiered, with Beyoncé performing as Nala, who was the friend and love interest of Simba, played by Donald Glover.
She also released Spirit, a hit-single, around the same time as the release of the film, as well as a companion album called The Lion King: The Gift.
In April of 2020, Beyoncé was featured on a remix of Savage by Megan Thee Stallion. Its proceeds went to the pandemic relief efforts in Houston, Texas, where both artists are from.
Children
Following several years of rumors of her pregnancy, Beyoncé and her husband publicly announced their first child's anticipated arrival in 2011. Later that year, the mom went on to show off her baby bump at MTV's Music Awards.
In January of 2012, the married couple welcomed Blue Ivy Carter, their baby daughter, to the world.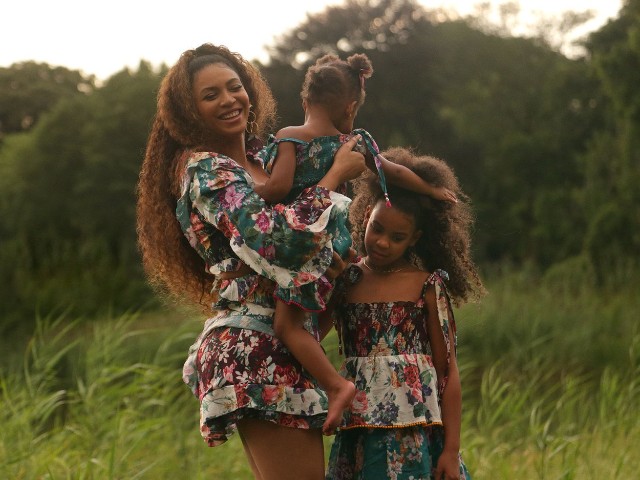 In June of 2017, they welcomed two more kids, twins, brother and sister, Sir and Rumi. For both births, the couple spared no expense in ensuring that they had the utmost privacy during their sensitive and family-oriented times.
Conclusion
There's no doubt that Beyoncé is one of the biggest female names in music history, and we know that she's going to continue to have an incredibly successful career.
We hope that you enjoyed reading and you were able to learn something new about this talented artist.